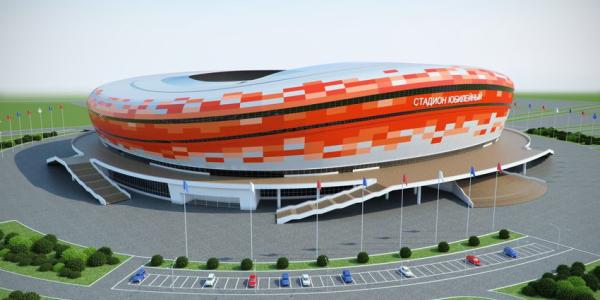 Key facts
Club: FC Mordovia Saransk | Capacity: 28,000 seats | Scheduled opening: 2017 | Status: under construction
Description
The Mordovia Arena, earlier also referred to as Stadion Yubileyny, is the currently under construction new home of Mordovia Saransk and one of the playing venues of the 2018 World Cup.
The stadium was first proposed in early 2010, and after various redesigns the first building works began in late 2011. However, works progressed slowly, and with the first structures of the lower tier barely up in 2012, the project stalled due to a lack of funding. Little activity was recorded in the next two years, until works were picked up again in late 2014.
By early 2016, the lower tier had been erected, and a start was made with the construction of the upper tier. The stadium is not thought to be completed before 2017.
The Mordovia Arena is getting built on the eastern edge of the small city of Saransk, though the distance from Saransk's principal Sovetskaya Square is only a few hundred metres.
The stadium will initially have a capacity of 45,000 seats for the World Cup, which will be brought down to 28,000 seats after the World Cup by removing the upper tier and turning it into a walking concourse.
During the World Cup, the Mordovia Arena will host four first round group matches.