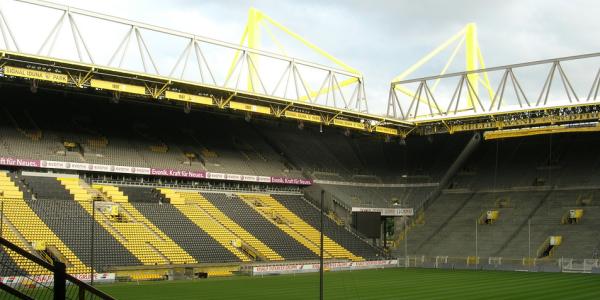 Key facts
Club: Borussia Dortmund | Opening: 1974 | Capacity: 80,720 (25,000 standing)
History and description
Signal Iduna Park, before 2005 called Westfalenstadion, was built to serve as a playing venue for the 1974 World Cup.
Until then Dortmund had played their home matches at Stadion Rote Erde, and while an expansion of that stadium was first considered, in the end was chosen to build a new stadium all together.
The Westfalenstadion officially opened on the 2nd of April 1974 with a friendly between Dortmund and Schalke 04. The stadium back then only consisted of one tier that could hold 54,000 spectators, of which 37,000 standing.
The stadium stood out because of its rectangular shape in a time when most large stadiums were still bowl-shaped, and its four separate stands served as inspiration for a new generation of stadiums. Ibrox Stadium's redevelopment in the late 1970s was, for example, largely based on the Westfalenstadion.
During the 1974 World Cup, the Westfalenstadion hosted three first round group matches and the second round group match between Holland and Brazil (2-0).
The stadium remained largely unchanged until the early 1990s, when the increased successes of Dortmund grew the need for expansion.
Works started with the conversion of part of the standing areas into seats, actually reducing capacity, but then continued in 1995 with the construction of a second tier on top of the East and West Stand.
Shortly after, building works started on a second tier for the North and South Stand, which were completed in 1999. The stadium could then hold 68,600 spectators, and the South Stand with room for almost 25,000 people had become the largest standing stand of Europe.
In 2001, the Westfalenstadion hosted the UEFA Cup final between Liverpool and Alavés (5-4).
The redevelopment of the stadium was completed between 2002 and 2003 when all four corners got closed up with stands. Two years later, in 2005, the stadium changed name to Signal Iduna Park as a result of a sponsorship deal.
In 2006, Signal Iduna Park was one of the playing venues of the 2006 World Cup. Temporarily renamed and with a reduced capacity of 67,000 seats, the stadium hosted four group matches, a round of 16 match, and the semi-final between Germany and Italy (0-2).
(photos of the present Signal Iduna Park below)
Getting there
Signal Iduna Park is located in the south of Dortmund near the Westfalenhallen conference centre. Dortmund's city centre and main rail station are about 3 kilometres away.
The stadium can be reached by car from either the B1 (north, east, and west), or B54 (south). If coming from the B1, take exit Im Rabenloh. The stadium lies a few hundred metres to the south. If arriving from the B54, take exit An Der Buschmühle. Drive east until you will turn with a curve onto the Strobelallee and head straight ahead until you see the stadium.
Signal Iduna Park can be easily reached by train from the main railway station in the centre. In just 5 minutes you will arrive at Dortmund Signal Iduna Park station, from where it is a short walk to the stadium. Trains typically run three to four times an hour.
Alternatively, you can take the metro (U-Bahn) from the centre and get off at station Westfalenhallen, from where it is a 5-minute walk to the stadium. Both line 45 and 46 serve the station.
On matchdays, there is a special service that will continue to station Stadion, which is even closer to the stadium.
The stadium is furthermore within walking distance of Theodor-Fliedner-Heim station, which is on metro line 42.
Address: Strobelallee 50, 44139 Dortmund
Eat, drink, and sleep
Signal Iduna Park is located next to conference centre Westfalenhallen, which means that there are quite a few hotels close to the stadium. The Best Western Parkhotel is located right across from the stadium and gets good reviews. Pullman Dortmund and Steinberger Dortmund are other options. Expect to pay over €100.00 per night though. Hotel Gildenhof and B&B Hotel Dortmund Messe are cheaper alternatives. Click here for all hotels near Signal Iduna Park.
As the stadium is easy to reach from Dortmund's city centre, you can just as well stay there. Dortmund is not the most interesting city, but there is more entertainment around than near the stadium. There are more cheaper hotels in the centre as well. Click here for the options.
If you are planning to stay more than one day or want to join the nightlife, Düsseldorf or Bochum (for nightlife) might be better options to stay. S-Bahn line S1 and regional trains directly connect both cities with Dortmund's main railway station.
There is a nice beer garden next to the stadium which is great if you pass by for a tour on non-matchdays.
Tickets
Tickets for Borussia Dortmund games can be bought online, by phone +49 1805 309000 (Tickethotline), through the email contact form on Borussia Dortmund's official website, at the club office at the Rheinlanddamm 207, or at one of the selected pre-sale points in the Dortmund area.
Dortmund's recent successes have resulted in the club selling out almost every home match, and it is increasingly hard to get tickets. One is therefore advised to buy tickets as much in advance as possible.
If a match is not sold out, tickets can also be bought at the ticket windows of Signal Iduna Park from 4.5 hours before kickoff, but this happens rarely for regular league games.
Tickets range in price from €29.00 for a seat in the upper corners to €50.00 for a central seat at the main stand. A ticket for the South Stand (standing) costs €15.00. Prices are increased with 20% for six top matches.
Attendances

Stadium tours
Signal Iduna Park offers guided stadium tours that include the dressing rooms, players' tunnel, VIP areas, mixed zone, stadium prison, and Borusseum club museum (including trophy room). The tour lasts about 60 minutes.
Tours run four times a week, generally on Tuesday at 12:00 noon, Friday at 4:00 pm, Saturday at 2:00 pm, and Sunday at 2:00 pm. There are no tours on matchdays, but an alternative tour gets offered the day after the match at 10:30 am. The Borusseum opens daily from 10:00 am to 6:00 pm.
Bookings are not required and tours run independently of group size.
The tour costs €10.00. For more information email info@stadion-live.de or call + 49 (0) 231 90 20 616.
Photos
Relevant Internet links

BVB.de – Official website of Borussia Dortmund.
Signal-iduna-park.de – Official website of Signal Iduna Park.
Stadion-live.de – Signal Iduna Park event management website.
Dortmund-tourismus.de – Official tourism webiste for the city of Dortmund.
Bahn.de – Train times and fares.
Bus-und-bahn.de – Bus and metro routes and times.