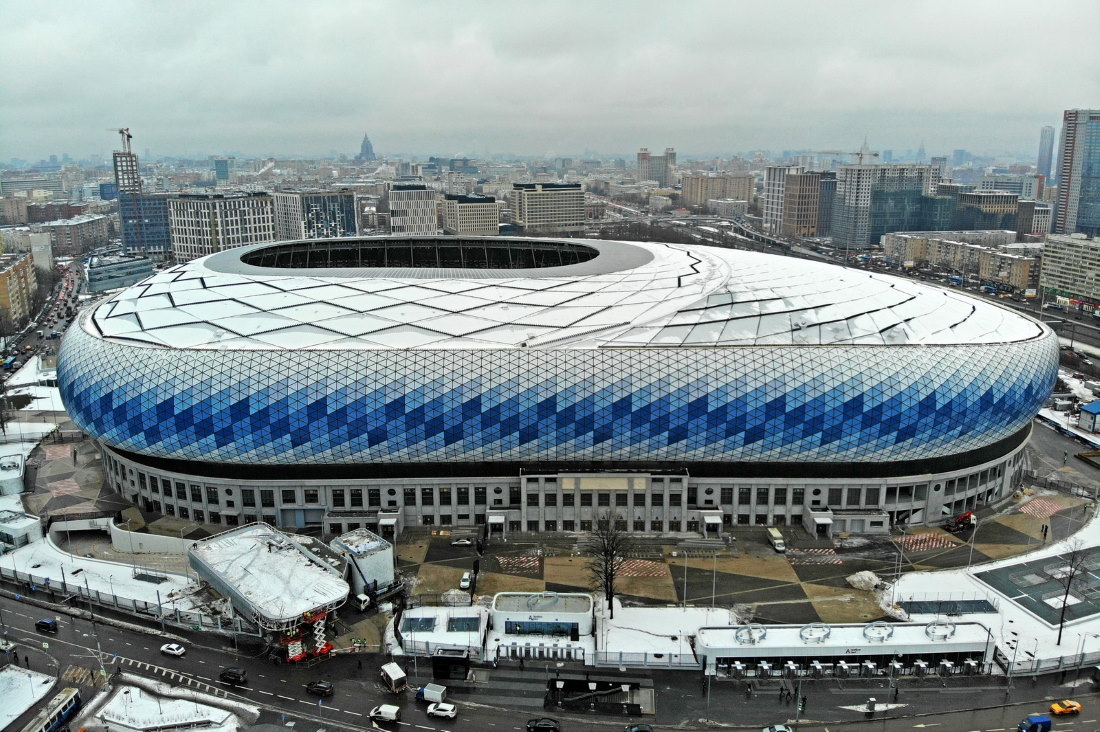 Key facts
Club: FC Dynamo Moscow | Opening: 2018 | Capacity: 25,716 seats
History & description
The VTB Arena is the recently opened new stadium of FC Dynamo.
First plans for the stadium were published in the summer of 2010 and showed a new stadium to be built on the site of the old Dynamo Stadium that had closed in 2008. Part of the facade, that is listed as a monument, was to be preserved in the new stadium design, though most of the old stadium would be demolished.
The project was led by the VTB Bank, which is for 85% owned by the Russian government and itself owns 75% of FC Dynamo Moscow. The total project consisted of a football stadium, multi-use indoor arena, and several real-estate projects, all with a total value of $1.5 billion. 
Demolition of the stadium started late 2011 and was completed in 2012, after which construction of the new arena started. The new arena was initially scheduled to be completed in 2016, however it took until late 2018 for the stadium to open.
Whereas the stadium opened on 20 December 2018 with an opening ceremony, it took until the 26th of May of that year for the stadium to be fully completed and the first match to be played. The first match was a league match between Dynamo and Arsenal Tula (3-3).
How to get to the VTB Arena
The VTB Arena is located rather central at about 5 kilometres north-west of Moscow's centre. The stadium lies on Leningradsky Avenue, one of Moscow main roads at just 2 kilometres north from Belorussky railway station. CSKA's VEB Arena lies a bit further up the road.
The stadium is easily reached by metro. Stations Dinamo and Petrovsky Park lie right next to the stadium. Dinamo station is on the green Line 2 that runs right through Moscow's centre. Petrovsky Park is on line 8A and 11, which don't connect to any central areas but can be useful if connecting from other lines.
Dynamo Moscow Tickets
Dynamo Moscow tickets can be bought online, or, though limited, at the box office at the stadium.
Tickets typically go on sale in the week before the match.
Expect to pay from Rub. 900 for an upper tier seat behind the goal to Rub. 3,600 for the best seats at the main stand. Tickets for the other side range between Rub. 1,000 and Rub. 2,000. Prices for high-profile matches tend to be Rub. 300-1,000 higher.
Photos of the VTB Arena
Photo credits: mos.ru
Useful Internet links
Fcdynamo.ru – Official website of FC Dynamo Moscow.
Moscow.ru – Moscow international portal.
Mosmetro.ru – Information on the Moscow metro network