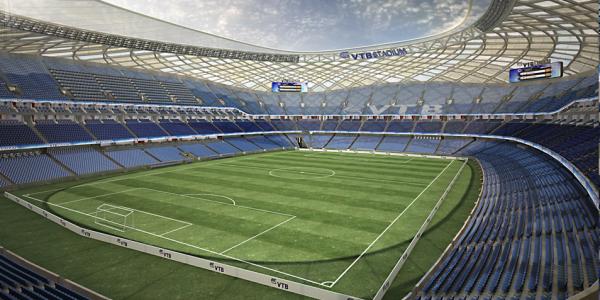 Key facts
Club: FC Dynamo Moscow | Capacity: 33,000 seats | Scheduled opening: 2017 | Status: under construction
Description
The VTB Arena is the proposed new stadium of FC Dynamo. It has a planned capacity of 33,000 seats, which can be expanded to 45,000 if the stadium gets selected as a playing venue for the 2018 World Cup.
First plans for the stadium were presented in the summer of 2010. The stadium will be built on the site of the old Dynamo Stadium that got closed in 2008. Part of the facade, that is listed as a monument, will be preserved in the new stadium design, though most of the old stadium will be demolished.
The total project consists of a football stadium, multi-use indoor arena, and several real-estate projects, all with a complete value of $1.5 billion. The stadium and arena will be integrated under one roof. The stadium design is by Manica Architecture.
The seats of the VTB Arena will be divided over three tiers, and will include a total of 6,750 business seats and 98 VIP boxes. One of the arena's stand-out features is a 85-meter long LED screen at one of the short ends.
The project is led by the VTB Bank, which is for 85% owned by the Russian government and itself owns 75% of FC Dynamo Moscow. The stadium has temporarily been named after the bank, but it is expected that ultimately a naming rights sponsor will be sought.
The VTB Arena is located about 5 kilometres north-west of Moscow's city centre, just outside the second ring road. Demolition of the stadium started late 2011 and is scheduled to be completed in August 2012, after which construction of the VTB Arena will start.
The stadium was initially expected to be completed in 2016, however that deadline has not been made. In early 2017, most of the stands had been erected and works were performed on the roof structure, but it was nowhere yet near to completion.
Images of the VTB Arena