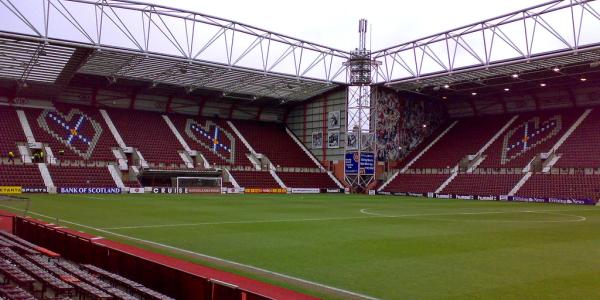 Key facts
Club: Heart of Midlothian FC | Opening: 1886 | Opening: 17,400 seats
History and description
Tynecastle Stadium opened on the 10th of April 1886 with a match between Hearts and Bolton Wanderers (4-1). It had earlier secured tenancy of the meadow that was destined for housing and industry.
Tynecastle initially consisted of one wooden stand, but was soon expanded with two further wooden stands, bringing capacity of the stadium to about 10,000.
Over the next three decades, capacity of Tynecastle further increased to over 61,000. New concrete stands were built and additional banking created. The highlight was the construction of the brick and steel main stand by Archibald Leitch in 1914.
In the 1920s, the remaining banks were all terraced, and on the 14th of February 1932 a record crowd of 53,396 attended a Scottish Cup match between Hearts and Rangers.
After the war the terraces were concreted and modernised, and in 1959 a new roofed enclosure was built.
In the following decades attendances slowly declined, and due to safety measures the capacity of the stadium had to be brought down to 30,000.
In the 1980s, incremental improvements were made to the stadium, including the conversion of various terraces into seating areas, however it took until 1994 for major redevelopment works to begin.
Works started with the construction of the Wheatfield Stand in 1994, and continued with the construction of another two new stands at both ends. Works were completed in 1997.
Since the early 2000s, Hearts has been looking at options to either move to a new stadium, move to nearby Murrayfield, or to redevelop Tynecastle, most likely involving the reconstruction of the main stand (the only stand not rebuilt in the 1990s).
After redeveloping Tynecastle turned out to be not viable, the club is currently focusing on building a brand-new stadium. However, as Edinburgh's city council has refused to financially participate and as Hearts remains financially-troubled, realisation of the project is unsure at the moment.
(photos of the present Tynecastle Stadium below)
Getting there
Tynecastle Stadium is located in the west of Edinburgh, about 1.5 miles from Edinburgh city centre and only a few hundred yards away from Murrayfield Rugby Stadium, though separated by railroad tracks.
From the West End of Edinburgh take the Dalry Road fork at Haymarket and continue until Dalry Road joins Gorgie Road. The stadium lies 200 yards further down Gorgie Road.
From the Edinburgh City Bypass (A720), take the exit for the A71 Edinburgh West. Follow the A71 west for slightly more than 3 miles, and turn left into McLeod Street.
Tynecastle lies a 15-minute walk away from Haymarket rail station. Haymarket station is served every few minutes with trains from Edinburgh main rail station. The journey takes just a few minutes.
From Haymarket station the stadium can also be reached with bus 1, 2, 3, 25, and 33 from Lothian Buses, or bus 25, 27, and 28 from First Buses. Most of these buses also pass through Edinburgh's city centre, either at Grassmarket, South Bridge, or George Street.
Address: McLeod Street, Edinburgh, EH11 2NL
Tickets
Tickets for Hearts FC matches can be bought online, by phone +44 (0) 871 663 1874, or in person at the Hearts Ticket Center at Tynecastle.
Hearts attract decent crowds and may sell out the occasional home match. For practically all matches tickets will be easily available in at least pre-sale though.
Ticket prices range from £19.00 for a seat at the lower tier behind the goal to £30.00 for an upper tier seat at the Wheatfield Stand. Prices are increased for the matches against Celtic and Hibernian to between £30.00 and £35.00.
Photos
Relevant Internet links

Heartsfc.co.uk – Official website of Heart of Midlothian FC.
Edinburgh.org – Edinburgh tourist information.
Lothianbuses.com – Website of bus operator Lothian buses.