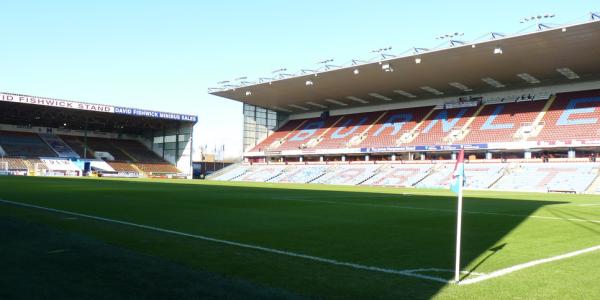 Key facts
Club: Burnley FC | Opening: 1883 | Capacity: 22,619 seats
History and description
Burnley moved to Turf Moor in 1883, nine months after the club had formed. The first match played at the ground was against Rawtenstall (3-6), though at that point the stadium was nothing more than a pitch next to a cricket ground.
One year later, a first grand stand was constructed, and soon after a terrace that could hold about 5,000 people. The rest of the stadium consisted of a natural mound on which spectators could stand.
Two covered stands were built in 1908, and at that time the stadium could hold more than 50,000 spectators.
Turf Moor recorded its highest attendance in 1924, when 54,755 people watched an FA Cup match between Burnley and Huddersfield Town.
The stadium underwent a next major redevelopment in 1954 with the construction of the vast Longside terrace.
Fifteen year later, in 1969, the Cricket Field Stand was built. It was one of the first examples of a modern stand and also contained the dressing rooms, which made Turf Moor one of the few grounds in the football league with the dressing rooms behind the goal.
The construction of the Bee Hole End terrace, and, in 1974, the Bob Lord Stand, completed the ground.
The stadium remained practically untouched until in 1994 the decision was made to redevelop the ground. First the Longside was demolished and replaced with a new stand, and a year later the Bee Hole End suffered a similar fate.
In recent years, Burnley planned to replace the old and dilapidated Cricket Field Stand, but the financial crisis has so far prevented the execution of these plans.
(photos of the present Turf Moor below)
Getting there
Turf Moor lies just east of Burnley town centre. The walk from Burnley Manchester Rail takes about 15 minutes. Burnley Central Rail lies at a similar distance. The walk from the town centre will take no more than 10 minutes. The bus station is located even closer.
From the M65, exit at junction 10. From the ramp follow the signs that say either Burnley FC, Turf Moor, or Towneley Hall.
Address: Harry Potts Way, Burnley, BB10 4BX
Tickets
Tickets for Burnley games can be purchased online, by phone +44 (0) 871 221 1914, or at the ticket office at the stadium.
Tickets typically cost either £27.00 or £28.00, but prices can be slightly more or less depending on the opponent.
For more information email ticketoffice@burnleyfc.com or call +44 (0) 871 221 1914.
Stadium tours
Burnley FC organises guided stadium tours that include access to the dressing rooms, players' tunnel, directors' box, dugouts, press room, and police cells. The tour lasts about 60 minutes.
Tours run every Wednesday and non-matchday Saturdays.
Bookings are required, and can be made by calling +44 (0) 1282 700001. The tour costs £7.00.
Photos
Relevant Internet links

Burnleyfootballclub.com – Official website of Burnley FC.
Visitburnley.com – Website of the Burnley tourist board.