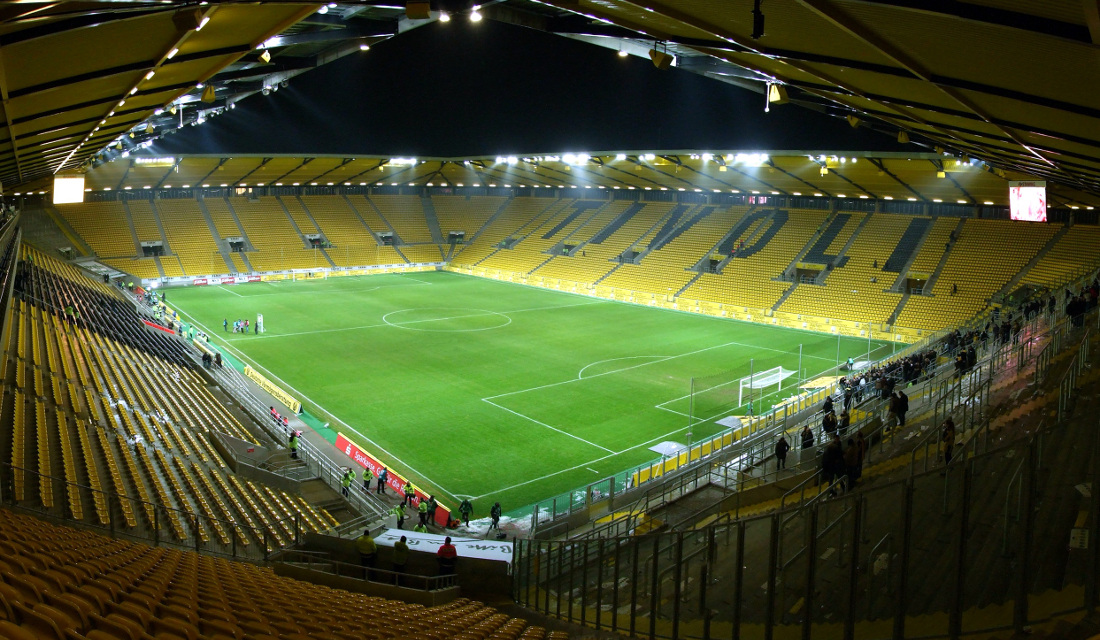 Key facts
Club: Alemannia Aachen | Opening: 2009 | Capacity: 32,960 (11,681 standing)
History and description
Tivoli replaced Alemannia's old stadium with the same name.
The club had been planning a new stadium since the early 2000s. At first a site was selected near airport Merzbrück, outside of the city, but after fan protests who preferred a stadium within the city limits, in the end was chosen to build the stadium close to the old one.
Construction of the new Tivoli started early 2008 and was completed by the summer of 2009. Tivoli opened on 12 August 2009 with a friendly match between Alemannia and Belgian side Lierse SK (2-2).
How to get to Tivoli
Tivoli is located in the north of Aachen, slightly more than two kilometres from Aachen's historic city centre and just over three kilometres from its main railway station.
The stadium lies just south of the A4 motorway that runs north of the city of Aachen. Take the exit Aachen Zentrum, and turn south toward the city centre (Zentrum). The stadium is on the right side of the road after just over a kilometre.
If using public transport, Tivoli can be reached with bus 51/151 that leaves from Aachen Bushof right in the city centre. Take the bus in the direction of Alsdorf and get off at stop Sportpart Soers or Eissporthalle. Buses go very regularly.
Address: Krefelder Straße 205, 52070 Aachen
Alemannia Aachen Tickets
Tickets for Alemannia Aachen games can be purchased online, by phone +49 (0) 1805 018011, at the Alemannia-Shop at Tivoli, or at any of the other sales points, of which the Avant Hotelreservierung at the Friedlandstr. 18 near the main railway station is likely the most convenient.
Tickets can also be bought at the ticket windows of the stadium on the day of the match. Alemannia rarely sell out in the lower leagues.
Ticket prices range from €18.00 for a corner seat to €28.00 for a central seat at one of the long sides. Standing costs €10.00. Tickets are €2.00 more expensive if bought on the day.
For more information email tickets@alemannia-aachen.de.
Tivoli Stadium tours
Alemannia Aachen offers guided stadium tours that include access to the dugouts, business areas and press room, and last about 60 minutes.
Tours only run occasionally. Dates are announced on the Alemannia website.
Alemannia also offers Fan Tours on the day of the match that last slightly shorter, but include matchday preparations. These tours leave at 3 hours before kickoff.
Reservations are required, and can be made by phone +49 (0) 1805 018011, or at the Alemmania-Shops at the stadium or at the Pontstraße. The tour costs €10.00.
Photos of Tivoli
Relevant Internet links
Alemannia-aachen.de – Official website of Alemannia Aachen.
Aachen.de – Aachen tourist service.
Aseag.de – Public transport information for the Aachen area.