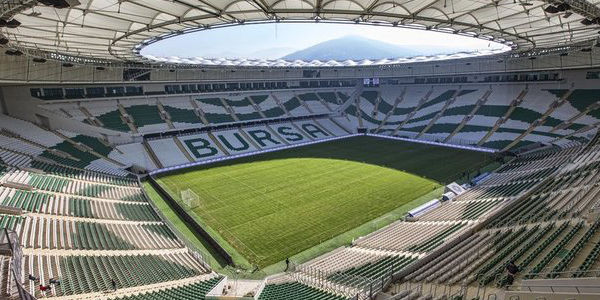 Key facts
Club: Bursaspor | Opening: 2015 | Capacity: 43,331 seats
History and description
The Timsah Arena is the recently opened new stadium of Bursaspor. It has replaced Bursa's Atatürk Stadium as Bursaspor's home ground.
Construction of the Timsah Arena began in the summer of 2011. Works initially progressed quickly, however the pace of construction significantly slowed down in 2013 and completion was pushed back to 2015.
The most remarkable aspect of the stadium is its green roof in the form of a crocodile, which includes the head sticking out on one side. Timsah means crocodile in Turkish.
The Timsah Arena officially opened on 21 December 2015 with a testimonial match between a team of celebrities and one with local players.
How to get to the Timsah Arena
The Timsah Arena is located in the north-west of Bursa at about 5 kilometres from the city centre.
The stadium lies a short walk away from Acemler metro station. Bursa's BursaRay metro system consists of two lines that run on the same track between central Bursa and Acemler (and only split further west) so one can take any train in central Bursa running west.
Address: Hayran Cd. No. 4, 16090 Osmangazi
Bursaspor Tickets
Tickets for Bursaspor games can be bought online at Passo.com.tr, or in person at the ticket offices of the Timsah Arena or Bursa's Atatürk Stadium.
As with all matches in Turkey, one needs to possess a Passolig card to be able to buy tickets and enter the stadium. In the case of foreigners this is a pre-paid card. One can apply for a card on the Passolig website.
Ticket prices range from 20.00 TL for a seat behind the goal to 200.00 TL for the VIP sections. A seat at one of the sides tends to range in price from 40.00 TL to 100.00 TL.
Photos of the Timsah Arena
Relevant Internet links
Bursaspor.org.tr – Official website of Bursaspor.
Burulas.com.tr – Bursa public transport information.