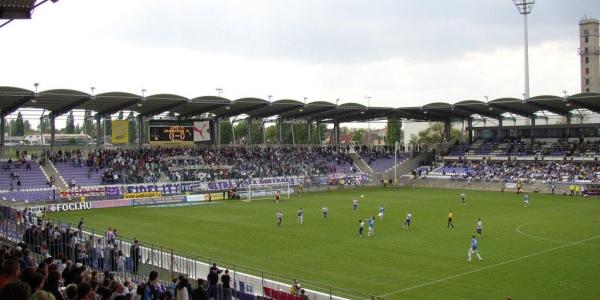 Key facts
Club: Újpest FC | Opening: 1922 | Capacity: 13,501 seats
History and description
Szusza Ferenc Stadion was built in 1922 after Újpest had been forced to find a new home when the rent of their previous ground was terminated.
The new concrete stadium, then called Megyeri Úti Stadion, had a capacity of about 20,000 places, and officially opened on the 17th of September 1922 with a match between Újpest and FTC (2-1). It got further expanded in the early 1930s.
During the Second World War, looters took much of the wood of the stadium, and it subsequently got further damaged when it was flooded in 1945.
Megyeri Úti Stadion was soon rebuilt though, and capacity was increased to 45,117. Several internationals were played at the ground until Ferenc Púskas Stadion opened in 1953. Újpest also started playing their high-profile matches at the bigger stadium.
Small improvements were made in the following decades, but the stadium slowly fell into disrepair and capacity got reduced due to safety measures.
Újpest therefore started an extensive redevelopment program, and between 1999 and 2001 the stadium got almost completely rebuilt into a modern all-seater.
Some further renovations were made in 2003, and the stadium was subsequently renamed Szusza Ferenc Stadion.
(photos of the present Szusza Ferenc Stadion below)
Getting there
Szusza Ferenc Stadion is located in the Újpest area in the north of Budapest at just a few hundred metres from the banks of the river Danube. It lies about 8 kilometres north of Budapest's city centre.
The stadium is an approximate 20-minute walk away from metro station Újpest-Városkapu, which is on line 3. Line 3 can be boarded at several stops in the city centre, or reached with line 2 from the principal Keleti railway station.
From Újpest-Városkupa station one can also take bus 122-es, 196-os, or 104-es instead of making the walk.
An alternative to the metro is bus 30-as, which can be taken from Keleti railway station. Take the bus toward Megyer and get off at Baross úta.
If arriving by car from the M1 or M5 motorways, follow for Budapest's city centre, and then catch the Route 2 Váci út north. Follow for about 7 kilometres and slide right onto Megyeri út. The stadium lies shortly ahead on the right side of the road.
If coming from the M3 (north), follow the M3 into the city, and take exit 11 toward Újpest. Turn right onto Szentmihályi út and follow for a few kilometres (with a few slight curves) until Váci út. Turn right, follow Váci út for 1.5 kilometres, and slide right onto Megyeri út.
Address: Megyeri út 13, 1044 Budapest
Tickets
Tickets for Újpest games can be bought at the club office at Szusza Ferenc Stadion.
Tickets are generally also available at the ticket windows of the stadium on the day of the match. Újpest hardly ever sell out.
Ticket prices for a regular match range from HUF 900 for a seat behind the goal to HUF 2,500 for a good seat at the main stand. Prices are increased for five high-profile matches to between HUF 1,400 and HUF 3,000.
For more information email ticket@ujpestfc.hu.
Photos
Relevant Internet links

Ujpestfc.hu – Official website of Újpest FC.
Budapestinfo.hu – Official website of Budepest tourism.
Bkv.hu – Budapest public transport information.