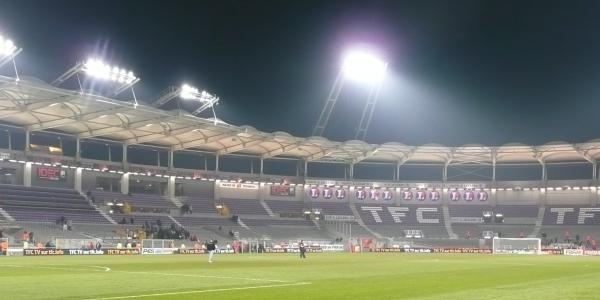 Key facts
Club: Toulouse FC | Opening: 1938 | Capacity: 35,472
History and description
Stadium de Toulouse was built in 1937. One year later, at the 1938 World Cup, it hosted the match and rematch between Cuba and Romania in the first round of the tournament.
The stadium was further developed in 1949, but then remained very much the same for almost half a century.
Stadium de Toulouse was selected as one of the playing venues of the 1998 World Cup, and as a result underwent a major redevelopment. During the World Cup, the stadium hosted four group matches and the round of 16 match between Holland and Yugoslavia (2-1).
Stadium de Toulouse has also been selected as one of the playing venues for Euro 2016, and will be renovated for the occasion. Extensive redevelopment plans, however, had to get scaled back due to funding issues.
Getting there
Stadium de Toulouse is located in central Toulouse on an island in the river Garonne. It lies about 3 kilometres south of Place du Capitole in the historic centre, and a good 4 kilometres from the central railway station.
Closest metro stations are Empalot and St. Michel, both on the yellow line, from where it is a 15-minute walk to the stadium. The yellow line crosses through Toulouse's historic centre and passes close to the central station (and can also be reached with a change from the red line).
From the southern part of the historic centre (Pont Neuf, Esquirol) one can take bus 12 (to Basso Cambo) which leaves you right in front of the stadium. Get off at stop Stadium Est (or Stadium Ouest).
An alternative is bus 38, which passes a short walk away from the stadium (on the east bank of the river). Take the bus from, for example, Jean Jaurès in the historic centre (direction Empalot). Both buses generally go every 10 to 15 minutes.
Bus 34 and 52 furthermore connect the stadium with southern parts of the city.
Address: 1 Allée Gabriel Biénès, 31028 Toulouse
Tickets
Tickets for Toulouse matches can be bought online, by phone +33 (0) 892 70 4000, at the club shop at the stadium, at the Box Office store at 2 Rue du Taur in Toulouse's city centre, or at any of the Ticketnet or Francebillet sales outlets.
Tickets can also be bought at the ticket windows (guichets) of the stadium on the day of the match. They typically open from 2 hours before kickoff.  Toulouse only occasionally sells out a high-profile match.
Ticket prices for a regular matches range from €12.00 for a seat at one of the curves to €39.00 for a seat at the upper-tier of the main stand. For a number of select Gala matches prices are higher, and for a few other matches prices are reduced.
Attendances

Photos
Relevant Internet links

Tfc.info – Official website of Toulouse FC.
Toulouse-tourisme.com – Official site of the Toulouse tourist office.
Tisseo.fr – Toulouse public transport information.