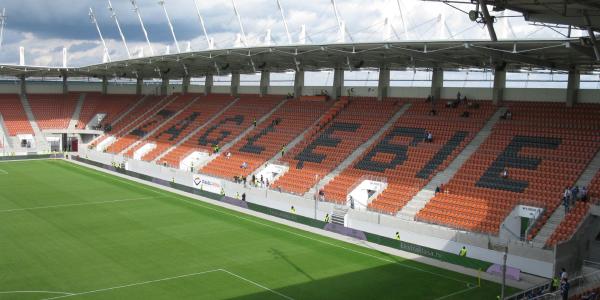 Key facts
Club: Zagłębie Lubin SA | Opening: 2009 | Capacity: 16,068 seats
History and description
Stadion Zagłębia Lubin was built on the same site as Zagłębie's old stadium. Construction began in 2007 and was done in two phases so that the club could keep playing at the stadium.
Stadion Zagłębia Lubin officially opened on the 14th of March 2009 with a match between Zagłębie Lubin and Górnik Łęczna (3-0).
Three new stands were ready at the inauguration. The fourth got demolished and reconstructed after, with the entire stadium being completed in 2010. Total costs of construction were PLN 130 million.
The naming rights of the stadium were initially sold to telecommunications company Telefonia Dialog, resulting in the name Dialog Arena. When the deal expired in February 2012, the stadium reverted back to its traditional name.
Getting there
Stadion Zagłębia Lubin is located on the northern edge of the town of Lubin, almost 2.5 kilometres from its town centre. Walking to the stadium should take about half an hour.
There is no train service to Lubin, but buses connect with Wrocław (journey time app. 1.5 hour). Buses arrive about 1.5 kilometres south of the town centre.
From the bus stops in the south and the town centre one can catch bus 6 to the stadium. Take the bus in the direction of ZG Lubin and get off at stop Stadion NZ. Line 7 to Ustronie is an alternative. Get off at stop KGHM. From the town centre bus 101 and 103 to KGHM will work fine too.
If arriving by car from the A4/E40 motorway (which runs about 25 kilometres south of the city), take the exit toward Jaworzynska. Turn onto the Route 3/E65 north, and follow until reaching Lubin. Continuing on the 3/E65, which runs with a curve east around Lubin, will automatically bring you to the stadium.
Address: Kłodowskiej Curie 98, 59-301 Lubin
Tickets
Tickets for Zagłębie Lubin games can be purchased online, at the club shop at shopping centre Cuprum Arena (just south of the town centre), or at cultural centre CK Muza (in the town centre)
Tickets can also be bought on the day of the match on the gate. Identification is required to be able to buy tickets. Polish citizens may need a Fan Card (Karta Kibica).
Tickets typically cost either PLN 30.00 for a seat behind the goal or PLN 40.00 for a seat at one of the sides. Tickets are PLN 5.00 more expensive for a number of top matches, and considerably cheaper if bought in pre-sale.
For more information email bilety@zaglebie.kghm.pl.
Photos
Relevant Internet links

Zaglebie-lubin.pl – Official website of Zagłębie Lubin SA.
Pks.lubin.pl – Lubin public transport information.