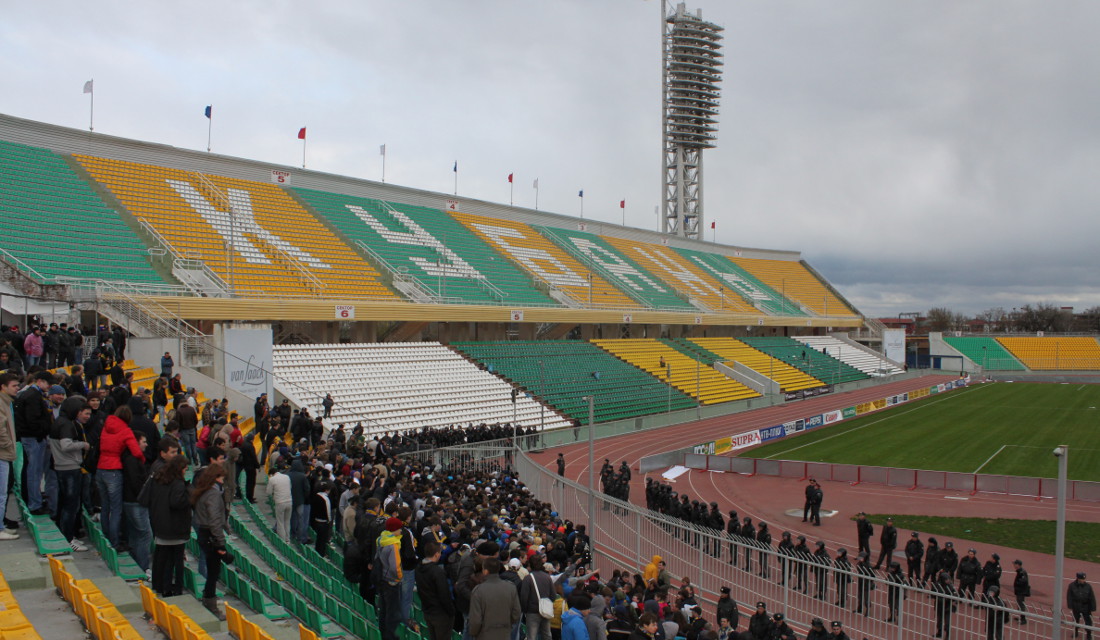 Key facts
Clubs: FC Kuban Krasnodar | Opening: 1960 | Capacity: 31,654
History and description
Stadion Kuban officially opened on 30 October 1960. The first football match at the stadium was played between Krasnodar and Stavropol on the 14th of May of the next year.
Stadion Kuban initially only consisted of one tier and 20,000 seats, but got expanded in 1980 with a second tier over both sides, raising capacity to over 40,000.
The stadium received a thorough refurbishment in 2008 and 2009, including the installation of new seats, which reduced capacity to its current total.
Until 2016, the stadium was shared between Kuban and FC Krasnodar, but the latter moved to a brand new stadium with a capacity of 30,000 seats. Kuban has also investigated the options to build a new stadium, and at one point presented plans for a new 45,000-seater stadium, though later cancelled these plans and opted for a large refurbishment of Stadion Kuban instead, which are planned to start after the 2018 World Cup.
How to get to Stadion Kuban
Stadion Kuban is located in central Krasnodar at about 2 kilometres east from Krasnodar's city centre and just under 1.5 kilometres from Krasnodar's central train station.
There are several daily direct train connections from Moscow, though the journey takes over 20 hours. There are also direct trains from Sochi and Volgograd, though from the Ukraine (Donetsk or Simferopol) a transfer is necessary.
Tram 4, 5, and 8 connect Krasnodar city centre with the stadium. Take tram 4 from the southern parts of ул. Коммунаров street, or tram 5 or 8 from the northern parts of ул. Коммунаров street. All three run via ул. Гоголя street to the stadium.
Tram 6 and 7 are an alternative. Both trams run via ул. Горького street to the stadium. In all cases your stop is Stadion Kuban (Стадион Кубань).
Address: 350038, Краснодар, ул. Железнодорожная, 49
Eat, drink, and sleep near Stadion Kuban
Stadion Kuban is located in a quiet and leafy area that is a mix of residential buildings, light industry, and parks. There is little around in terms of eating and drinking, which is better done in central Krasnodar, which has the Ul. Krasnaya (ул.  Красная) as its main axis.
Hotel Voyazh is the hotel located closest to Stadion Kuban, a 10 to 15-minute walk away, but gets below-average reviews. It is located close to the railway station as well though, and can therefore be convenient for those coming in by train.
Prestige Hotel (also close to the station), Viktoria Hotel, and Vivat Hotel are alternatives that get better reviews, and are still well within walking distance. If you prefer a more familiar brand, then you may want to consider the Hilton Garden Inn, though it does not come cheap.
Of course, there are many more hotels in central Krasnodar. Click here for an overview.
Photos of Stadion Kuban
Relevant Internet links
Fckuban.ru – Official website of FC Kuban Krasnodar.
Fckrasnodar.ru – Official website of FC Krasnodar.
Kubtransport.info – Krasnodar public transport information.