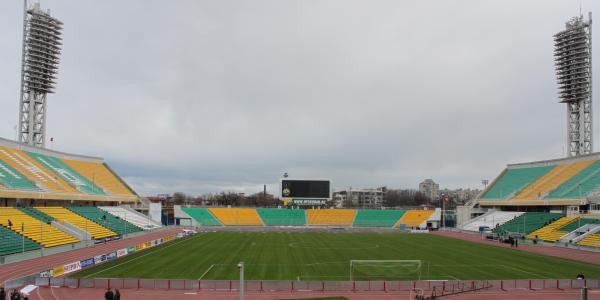 Key facts
Clubs: FC Kuban Krasnodar and FC Krasnodar | Opening: 1960 | Capacity: 31,654
History and description
Stadion Kuban officially opened on the 30th of October 1960. The first football match at the stadium was played between Krasnodar and Stavropol on the 14th of May of the next year.
Stadion Kuban initially only consisted of one tier and 20,000 seats, but got expanded in 1980 with a second tier over both sides, raising capacity to over 40,000.
The stadium received a thorough refurbishment in 2008 and 2009, including the installation of new seats, which reduced capacity to its current total.
Krasnodar has been selected as one of the host cities of the 2018 World Cup and for this will built a new 50,000-seater stadium, which will become the home of Kuban.
FC Krasnodar, in the meantime, has tentative plans to built an own new stadium with an expected capacity of just over 30,000 seats.
Getting there
Stadion Kuban is located in central Krasnodar, about 2 kilometres east from Krasnodar's city centre and just under 1.5 kilometres from Krasnodar's central train station.
There are several daily direct train connections from Moscow, though the journey takes over 20 hours. There are also direct trains from Sochi and Volgograd, though from the Ukraine (Donetsk or Simferopol) a transfer is necessary.
Tram 4, 5, and 8 connect Krasnodar city centre with the stadium. Take tram 4 from the southern parts of ул. Коммунаров street, or tram 5 or 8 from the northern parts of ул. Коммунаров street. All three run via ул. Гоголя street to the stadium.
Tram 6 and 7 are an alternative. Both trams run via ул. Горького street to the stadium. In all cases your stop is Stadion Kuban (Стадион Кубань).
Address: 350038, Краснодар, ул. Железнодорожная, 49
Tickets
Tickets for FC Krasnodar matches can be bought online. Tickets typically cost either RUB 200.00 for a seat at the main stand or RUB 100.00 for a seat at the opposite side.
Photos
Relevant Internet links

Fckuban.ru – Official website of FC Kuban Krasnodar.
Fckrasnodar.ru – Official website of FC Krasnodar.
Kubtransport.info – Krasnodar public transport information.