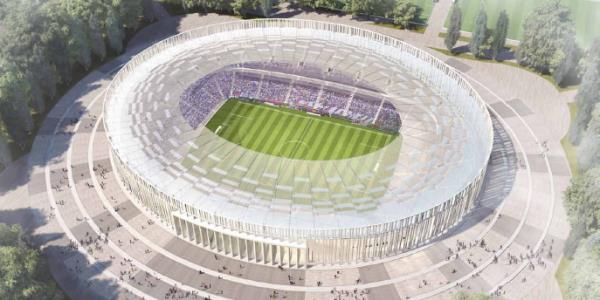 Key facts
Club: FC Krasnodar | Opening: 2016 | Capacity: 34,291 seats
History and description
FC Krasnodar Stadium is the recently opened new home of FC Krasnodar, which previously shared Stadion Kuban with Kuban Krasnodar.
First plans of the new stadium were made in 2011 and it did not take long for these to materialise in more concrete ones. Building works started in 2013 and were completed in the second half of 2016.
FC Krasnodar Stadium officially opened on 9 October 2016 with a friendly international between the Russia and Costa Rica national teams (3-4).
How to get to FC Krasnodar Stadium
FC Krasnodar Stadium is located on the eastern edge of the city, roughly 5 kilometres east the principal Krasnaya street and Teatralnaya Square.
Krasnodar's main rail station, located further south, is roughly 5.5 kilometres away.
The stadium can be reached with bus 45, which runs along Oktyabrskaya street (parallel to Krasnaya a little further west) and along Svernaya street (a few blocks north from Teatralnaya Square). Bus 45 also passes the main railway station.
Address: Str. Razvedchika Leonova 1, Krasnodar
Eat, drink, and sleep near Krasnodar Stadium
FC Krasnodar Stadium is located on the edge of Krasnodar bordered on one side by a leafy residential neighbourhood, and on the other by a new development of apartment blocks. While you may find the odd local cafe, the area is of little interest and eating and drinking is better done in Krasnodar's city centre.
There are no large hotels directly near Krasnodar Stadium, but there are quite a few apartment rentals and small B&Bs to choose from if you need to be very close. Slightly further away, a 15-minute walk, there are some decent options like Romeo and Juliet Hotel, Carat Hotel, and Marton Amigo Hotel.
However, if you've got a bit more time on your hands and want to head into Krasnodar's centre as well, which is very much recommended, you may want to find yourself a hotel a little more central. Krasnodar has plenty of options including some of the better-known chain hotels like a Hilton and Ibis. Click here to explore the options.
Krasnodar Tickets
Tickets for Krasnodar games can be bought at the ticket offices at FC Krasnodar Stadium, in the week before the match as well as right before the match.
Ticket prices range from RUB150 for a seat behind the goal to RUB500 for a central upper-tier seat. Prices get increased somewhat for the home match against Spartak.
Email match@fckrasnodar.ru for more information.
Photos of FC Krasnodar Stadium
Relevant Internet links
Fckrasnodar.ru – Official website of FC Krasnodar.
Rusavtobus.ru – Krasnodar public transport journey planner.