Stade Vélodrome Renovation Update

People watching the recent Champions League matches of Olympique de Marseille may have noticed the large empty stand on the opposite end of the camera. This was, of course, not the result of a lack of interest of the Marseille fans following their not so spectacular season so far, but moreover the consequence of extensive redevelopment works that prepare the stadium for the Euro 2016 tournament.
Stade Vélodrome is arguably one of the most characteristic stadiums in Europe with its rounded uncovered stands painted in the light blue and white colours of Marseille. Whenever a major tournament is held in France it almost automatically gets awarded a semi-final fixture, most recently the one between Brazil and Holland during the 1998 World Cup.
However, to claim a similar right for the Euro 2016 Championships the stadium would need an extensive upgrade as it far from complied with the standards of the typical semi-final venues. Plans for this upgrade were presented in the summer of 2010 and involve the complete rebuilding of the (main) Jean Bouin Stand, the partial reconstruction of the opposing Ganay Stand, and minor works on both short ends. Moreover, it also involves the construction of a futuristic-looking roof that will cover the entire stadium.

The whole project comes at a cost of €267 million, but this includes several real-estate projects surrounding the stadium (office buildings, a shopping mall, and two hotels). The works will be performed by GFC Construction, a subsidiary of French construction firm Bouygues.
The works will result in a capacity increase to 67,000 seats, almost 7,000 more than at the current stadium. However, during the works capacity will be temporarily reduced, which means that this season the stadium can hold a maximum of 42,000 fans. Still, Olympique will be able to keep playing all its home matches at the Vélodrome.

Some minor works were already performed in early 2011, however the real works started after the summer of 2011 with the closure of the Ganay Stand and demolition and start of the reconstruction of the upper parts of that stand. The works currently find themselves in the latter parts of the same stage which should be completed by the summer.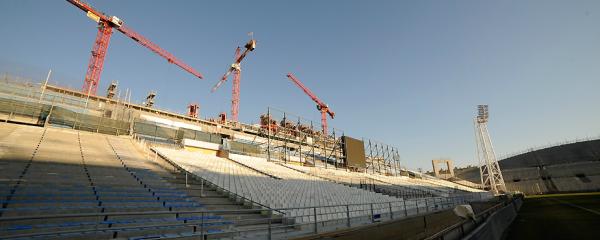 The summer of 2012 will be used to built the roof on top of the stand and the framework for the roof over the short ends. As soon as this stage is completed and the Ganay Stand will be ready to use for the 2012-2013 season, the Jean Bouin Stand will be demolished.
It will then take almost two years for the Jean Bouin Stand to get rebuilt and to have the roof extended over the stand and both short ends. The completely refurbished stadium will then be ready for the 2014-2015 season, almost two years before the start of the tournament.
Renders: © Arema-velodrome.com.
Photo construction works: © OM.net.