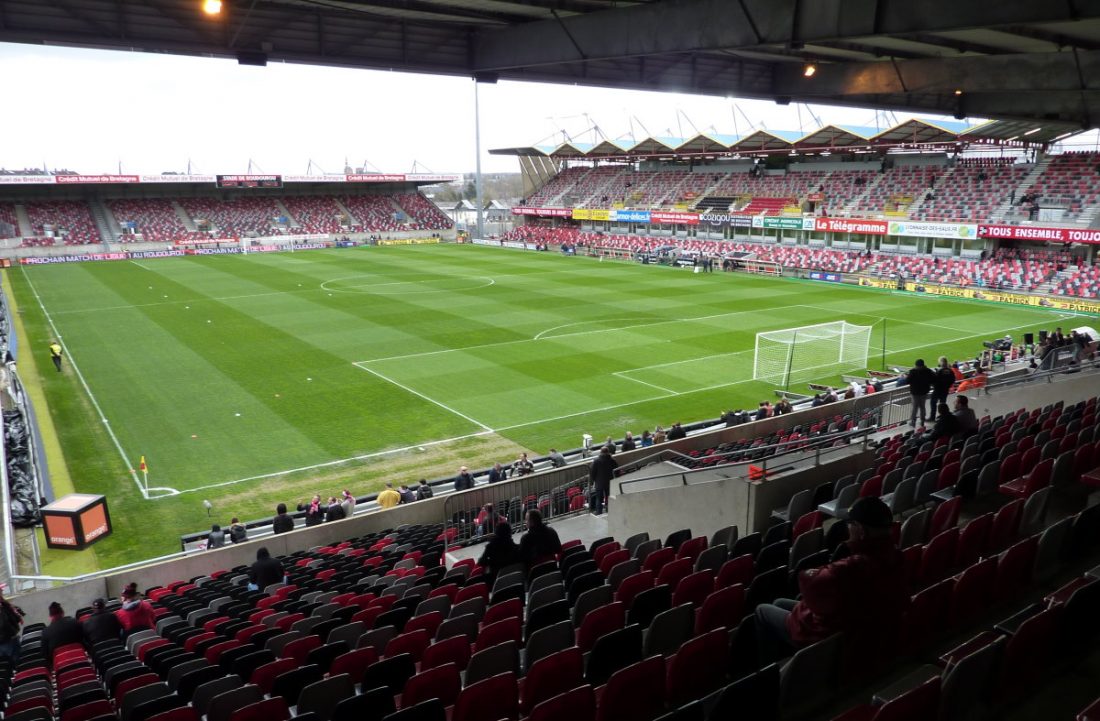 Key facts
Club: EA Guingamp | Opening: 1990 | Capacity: 18,250
History and description
Stade du Roudourou got built in 1989 on the site of a ground that had previously been occupied by local club Stade Charles de Blois. Guingamp had until then played Stade Yves-Jaguin, but convinced the local municipality to built them a new home.
Stade du Roudourou officially opened on 21January 1990 with a friendly match between Guingamp and Paris Saint-Germain.
The stadium could initially hold 12,000 spectators, but got further expanded in 1995 and 1997 following the rise of the club to Ligue 1 and qualification for European football.
Stade du Roudourou received a last small refurbishment in 2008. It subsequently hosted a home match of the France national team versus the Faroe Islands.
How to get to Stade du Roudourou
Stade du Roudourou is located in the north-west of the small city of Guingamp at about a kilometre of its city centre. The walk takes no more than 15 minutes.
The train station lies on the other side of the city centre. It takes close to half an hour to walk from the station to the stadium, or take bus 2 or 3. Buses run infrequently on the weekend though.
Guingamp has a frequent direct train service with Rennes and there are furthermore a few daily direct trains that run from Paris.
Address: Rue du Manoir, 22 200 Guingamp
Eat, drink, and sleep near Stade du Roudourou
Stade du Roudourou is located on the edge of Guingamp in a quiet residential neighbourhood with little around in terms of eating drinking. Guingamp's small centre offers a few options, but is neither of particular interest.
There are only a handful of hotels in Guingamp. Hotel La Demeure is located right in the centre and gets very good reviews, while Brit Hotel Armor is a decent alternative near the train station. Hotel Ibis Guingamp is convenient for those arriving by car.
Click here for an overview of all hotels in Guingamp and near Stade du Roudourou. Alternatively, stay in somewhat more picturesque Brest, Dinan, Rennes, or Roscoff, which are all a one to two-hour train journey away.
Guingamp Tickets
Tickets for Guingamp matches can be bought online, or in person at the club shop at the
Place du Vally in Guingamp's city centre.
Tickets are also available at the stadium on the day of the match. Guingamp rarely sell out.
Ticket prices range from €5.00 for a seat behind the goal to €19.00 for a good seat at the main stand.
Useful Internet links
Eaguingamp.com – Official website of En Avant de Guingamp.
Ot-guingamp.fr – Website of the Guingamp tourist office.
Axeobus.fr – Guingamp public transport information.
Photo credits: Presko