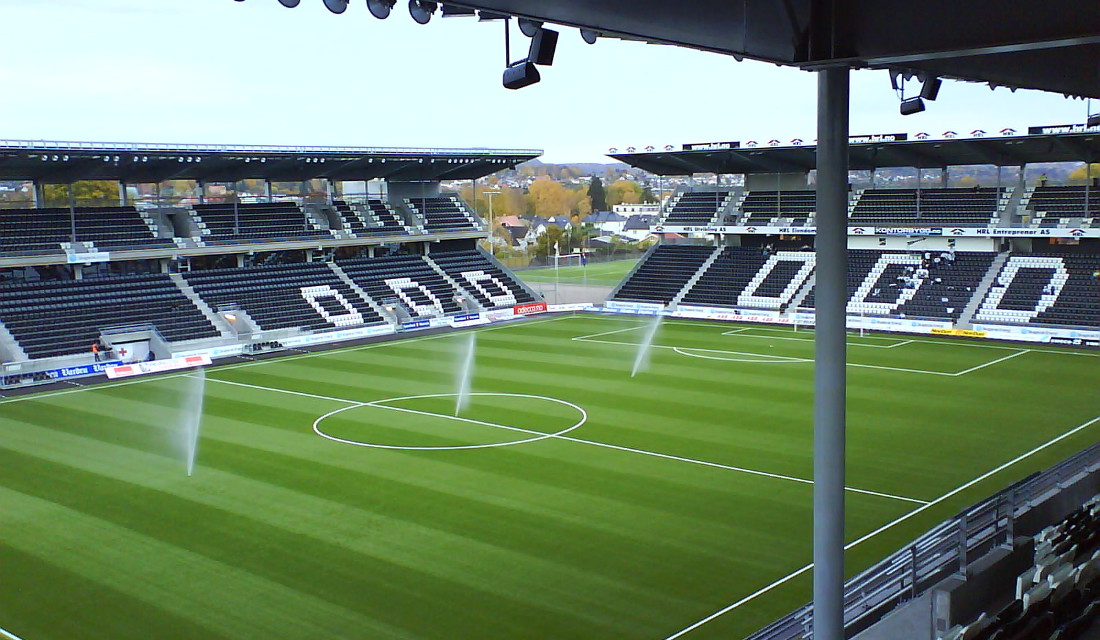 Key facts
Club: Odd | Opening: 2008 | Capacity: 13,500 seats
History and description
The Skagerak Arena, previously called Odd Stadion, replaced the old Odd Stadion that had stood in its place since 1920.
The old stadium got demolished in late 2006, after which the pitch got turned 90 degrees and construction of the new stadium began. One-and-a-half new stand had been built by the start of the 2007 season, which was enough for Odd to start playing their home matches at the arena.
The rest of the stadium got completed over the course of the season and the Skagerak Arena was completely finished in April 2008.
The Skagerak Arena has had an artificial pitch since its inauguration.
How to get to the Skagerak Arena
The Skagerak Arena is located toward the north-west of the small city of Skien. The walk from Skien's city centre will not take more than 15 minutes.
The walk from Skien's train station, located toward the north of the city, takes only slightly longer, approximately 15 minutes.
The train journey from Oslo S railway station to Skien takes just under 3 hours. Buses can be quicker though, and depart and arrive in Skien's centre.
Address: Fridtjof Nansens Gate 21, 3722 Skien
Eat, drink, and sleep near the Skagerak Arena
The Skagerak Arena is located in a quiet residential area with little around. It's only a short walk from Skien's city centre though, where there's a few options to eat and drink.
Skien isn't a tourist destination and hotels are therefore few. You've got a few hotels to choose from in Skien's city centre, the closest to the Skagerak Arena as possible, and a few more a bit out of town.
Click here for an overview of hotels in Skien.
Odd Tickets
Tickets for Odd games can be bought online, or at the club shop at the Skagerak Arena.
Tickets can also be bought at the gates of the stadium from two hours before the start of the match. Odd hardly ever sell out.
Ticket prices range from NOK 190.00 for a seat behind the goal to NOK 300.00 for a central seat at the main stand. Prices are increased with NOK 40.00 for a number of high-profile games.
Email billett@odd.no for more information.
Photos of the Skagerak Arena
Relevant Internet links
Odd.no – Official website of Odd.
Visitgrenland.no – Tourist information for the Grenland area.