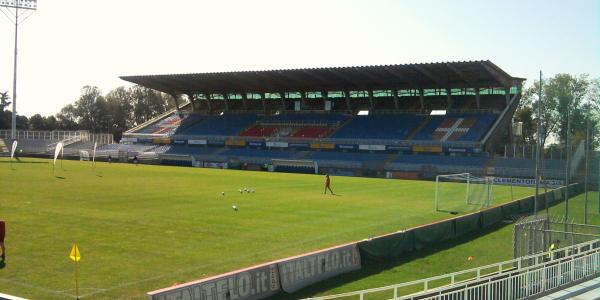 Key facts
Club: Novara Calcio | Opening: 1976 | Capacity: 17,875 seats
History and description
Stadio Silvio Piola was built in the 1970s. The stadium officially opened on the 18th of January 1976. A few days later, Novara played their first match at the stadium against Juventus (2-1).
The stadium was initially generically called Viale Kennedy, after the street it was on, but received its official name in 1997. Silvio Piola, all-time top scorer of the Serie A, played the last seven seasons of his career in the shirt of Novara.
In 2010, Novara installed an artificial pitch at the stadium, and after the club promoted in 2011 it was – together with Cesena – the first club with an artificial pitch in the Serie A.
Getting there
Stadio Silvio Piola is located on the south-western edge of the small city of Novara, about 2.5 kilometres from the city centre and slightly more from the train station.
From the train station, one can reach the stadium with bus 4 and 8. Take bus 4 in the direction of Via Ancona. The bus passes right in front of the stadium. The journey takes about 15 minutes, and buses leave at least twice and hour, though there is no service on Sundays.
Alternatively, take bus 8 in the direction of Via Ancona or Lumellogno. Bus 8 also passes right by the stadium, and the journey takes just over 15 minutes. It has regular service, which is reduced on Sundays to about once every 90 minutes.
If arriving by car from the A4 Milan-Turin motorway, take exit Novara Est and then the ring road (Tangenziale) south toward Novara. Follow the ring road all the way south toward Vercelli, and after about 11 kilometres (at the Corso Vercelli roundabout) take the first exit toward Novara. Follow for a few kilometres until, after having crossed a small river, the Martin-Luther-King roundabout. Take it three-quarters, and the stadium will lie right in front of you.
If coming from the direction of Turin, it will be quicker to take exit Novara-Ovest, drive toward the city, and just before the city take the first exit at the roundabout toward Vercelli. From there it is all straight on to the stadium.
Address: Viale Kennedy 8, 28100 Novara
Tickets
Tickets for Novara matches can be bought via the branches of local bank BNP (pdf), or at the stadium on the day of the match.
Ticket prices range from €13.00 for a seat at one of the curves to €30.00 for a seat at the main stand.
Photos
Relevant Internet links

Novaracalcio.com – Official website of Novara Calcio.
Turismonovara.it – Tourism information for the Novara province.
Sun.novara.it – Novara public transport information.