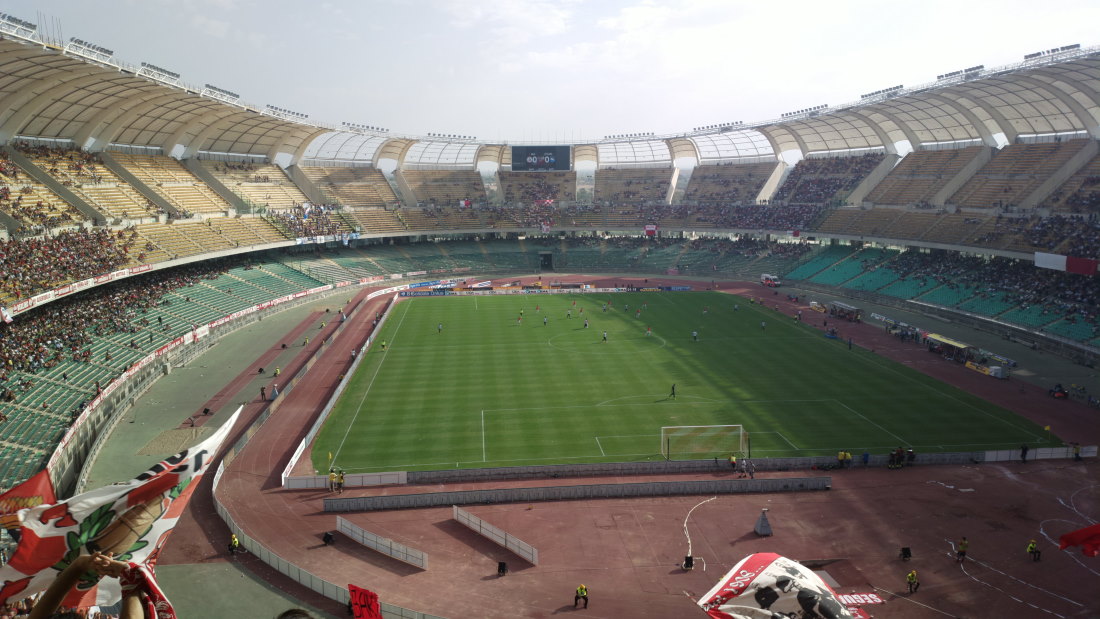 Key facts
Club: SSC Bari | Opening: 1990 | Capacity: 58,270 seats
History and description
Stadio San Nicola was built between 1987 and 1990 to serve as a playing venue for the 1990 World Cup.
The stadium was designed by Genovese architect Renzo Piano, who dubbed it "the spaceship", because of the similarities in shape. The original design did not include an athletics track, but this was later added at the request of Italian Olympic Committee CONI.
Stadio San Nicola officially opened on the 3rd of June 1990 with a match between Bari and Milan (2-0). The stadium replaced Bari's previous ground Stadio Comunale, also called Stadio della Vittoria.
During the 1990 World Cup, Stadio San Nicola hosted a total of five matches, among which three first round group matches, the round of 16 match between Czechoslavakia and Costa Rica (4-1), and the match for third place between Italy and England (2-1).
One year later, in 1991, the stadium hosted the European Cup final between Crvena Zvezda and Olympique de Marseille (0-0).
Most characteristic aspect of the stadium is its upper tier consisting of 26 separate petals.
Stadio San Nicola has turned out to be much too big for Bari, and a lack of maintenance has resulted in a heavily deteriorated state. Bari have therefore considered redeveloping the stadium into a smaller version, however are lacking the funds to do so.
In 2020, the stadium underwent a small renovation including the replacement of the upper tier seats for new ones.
How to get to Stadio San Nicola
Stadio San Nicola is located on the southern edge of the city of Bari, almost 8 kilometres from Bari's historic centre and 5.5 kilometres from Bari's central railway station.
The stadium lies just south of the Tangenziale di Bari, the city's ring road. Take exit 10B. The stadium is signposted coming from the west.
Stadio San Nicola can be reached by bus 20 or 71 from the central rail station, though it is not an easy connect and expect the trip to take at least 50 minutes. Line 71 is quicker but stops further away from the stadium on the other side of the motorway and requires another 20 minutes walking. Bus 20 only stops at the stadium on the way back to wait for it to turn back or get off and take a bus in the other direction once past the stadium.
Address: Stadio San Nicola , Strada Torrebella, 70124 Bari
Bari Tickets
Tickets for Bari matches can be bought at the ticket windows of gate 22 at the stadium, or at one of the sales outlets.
Bari never sell out in the Serie B.
Tickets range in price from €13.50 for one of the curves to €32.00 for a central seat at the main stand.
Photos of Stadio San Nicola
Photo credits: Misanthropic One
Useful Internet links
Sscbari.it – Official website of AS Bari.
Infopointbari.com – Bari tourist information.
Amtab.it – Public transport information for the city of Bari.