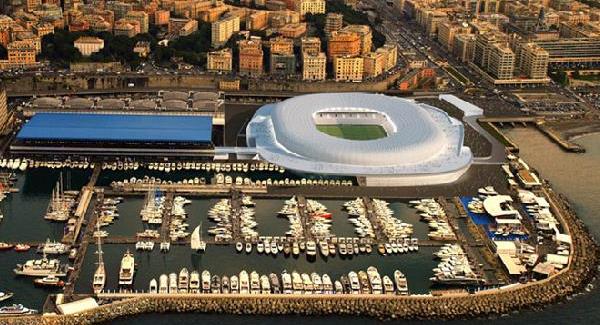 Sampdoria have taken another step closer to realising a new seaside home after presenting their plans to a special committee of the city of Genoa.
Sampdoria hope to build a new 30,000 all-seater in the place of the present Palasport indoor arena and Fiera exhibition centre. The site has an appealing seafront location with adjacent marina and lies at walking distance from Genoa's city centre.
The club's plans are not new though, as they have long expressed the desire to move out of shared Stadio Luigi Ferraris and into a new club-owned stadium. Progression has been slow though and last week's presentation was only a small step closer to reaching their goal.
The new stadium will be able to incorporate some of the functions of the present exhibition centre, and plans furthermore involve the construction of a smaller indoor arena with place for 2,500 people. There are a total of 1,000 parking spaces envisioned alongside the stadium.
While environmental impact will be relatively limited, the big obstacle, as usual, is likely going to be funding. The project is estimated to cost at least € 200 million and the city of Genoa has already indicated little enthusiasm to contribute.
Sampdoria, without much money on the bank either, hopes to fund part of the project with related commercial developments and may also seek the help of Italian Olympic committee CONI and Fiera. Further talks with these parties are scheduled for later this month.