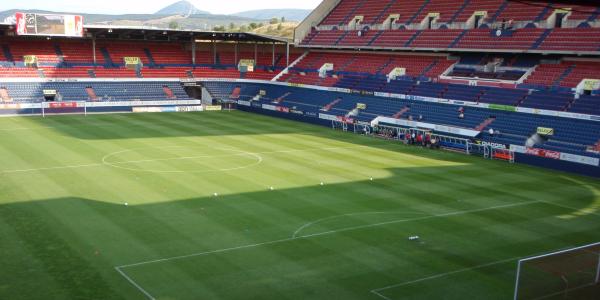 Key facts
Club: CA Osasuna | Opening: 1967 | Capacity: 19,800 seats
History and description
Estadio El Sadar, earlier also known as Estadio Reyno de Navarra, replaced Osasuna's old Campo de San Juan. El Sadar opened on the 2nd of September 1967 with a three-team tournament involving Osasuna, Real Zaragoza, and Portuguese side Vitoria de Setúbal. 
The stadium could initially hold about 25,000 spectators, of which 7,000 seated, but it got further expanded in 1989 when a new main stand was built. Soon after however, capacity was reduced again to 20,000 when the stadium got converted into an all-seater.
In 2005, Estadio El Sadar changed names to Estadio Reyno de Navarra in return for financial support that the club had received from the city of Pamplona – Reyno de Navarro being the brand used to promote tourism in the Navarra region. The stadium reverted back to its original name in 2013.
Getting there
Estadio El Sadar is located on the southern edge of Pamplona at about 2.5 kilometres from Pamplona's city centre and 4 kilometres from the rail station.
The walk from Pamplona's city centre takes about 30 minutes, but one can also use bus 11 to get to the stadium. Take the bus from Plaza Pincipe de Viana in the direction of Cordevilla or Parque Comercial Galaria. Get off at Sadar, which is right in front of the stadium.
From the rail station one can take bus 16. Take the bus in the direction of Beriain Pza Larre and get off at Zaragoza 84, from where it is a short walk to the stadium.
Buses leave at least every half an hour. It is a 20-minute ride from the centre and 5 minutes more from the train station.
Address: Calle Sadar s/n, 31006 Pamplona
Eat, drink, and sleep
Estadio El Sadar is located on the edge of the city in an area that is mainly composed of modern apartment blocks. There is little in terms of entertainment in the immediate area, though there is a retail park with a few fast food outlets a 15-minute walk south of the stadium. Apart from that, eating and drinking is best done in Pamplona's city centre.
In the same area south of the stadium you can find Hotel Zenit, and not too far away Hotel Bed4U. Both get good reviews, but are most of all convenient for those arriving by car. Click here for an overview of all hotels near Estadio El Sadar.
Alternatively, there is a reasonable selection of hotels in different price categories in the city centre of Pamplona.
Tickets
Tickets for Osasuna games can be bought online via Ticketmaster, at the club offices at Estadio El Sadar, or at any of the other sales outlets, which include bookstore Librería Echarte at the Calle San Saturnino 1 in Pamplona's city centre.
If tickets remain available, these are also sold on the gate on the day of the match. Osasuna tend to sell out a few high-profile matches per year though.
Ticket prices typically range from €40.00 for the upper parts of the main stand to €65.00 of the central parts of the main stand. Prices are raised significantly for high-profile matches. Expect to pay at least €90.00 for the matches against Barcelona and Madrid.
Attendances

Photos
Related Internet links

Osasuna.es – Official website of CA Osasuna.
Turismodepamplona.es – Official tourism website of the Pamplona city council.
Infotus.es – Osasuna public transport information.
MCP.es – Osasuna public transport journey planner.