New Rostov-on-Don Stadium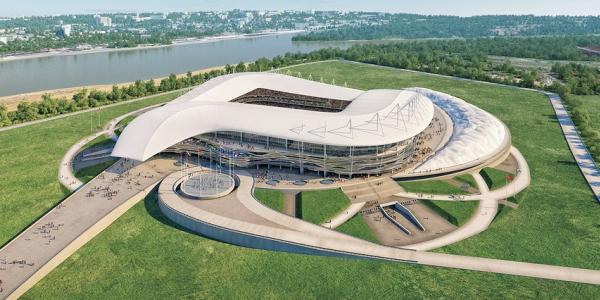 Key facts
Club: FC Rostov | Capacity: 25,000 seats | Scheduled opening: n/a | Status: in planning
Description
The New Rostov Stadium is a planned new stadium for the city of Rostov-on-Don that will become the new home of FC Rostov.
Plans for the new stadium became concrete when Russia got awarded the 2018 World Cup and Rostov-on-Don selected as a host city. The final design was chosen in December 2012 when Populous got selected as the architect.
The stadium will be built with a capacity of 45,000 seats for the World Cup, and then scaled down afterwards to a capacity of 25,000.
The design of the stadium is inspired by the ancient mounts of earth, Kurgans, that can be found in the region.
The new Rostov Stadium will get built on the south bank of the river Don not far from the centre of Rostov-on-Don.
No concrete schedule has been presented yet as when they have planned to start construction and complete the stadium, but the expectation is that the latter will happen some time around 2016.