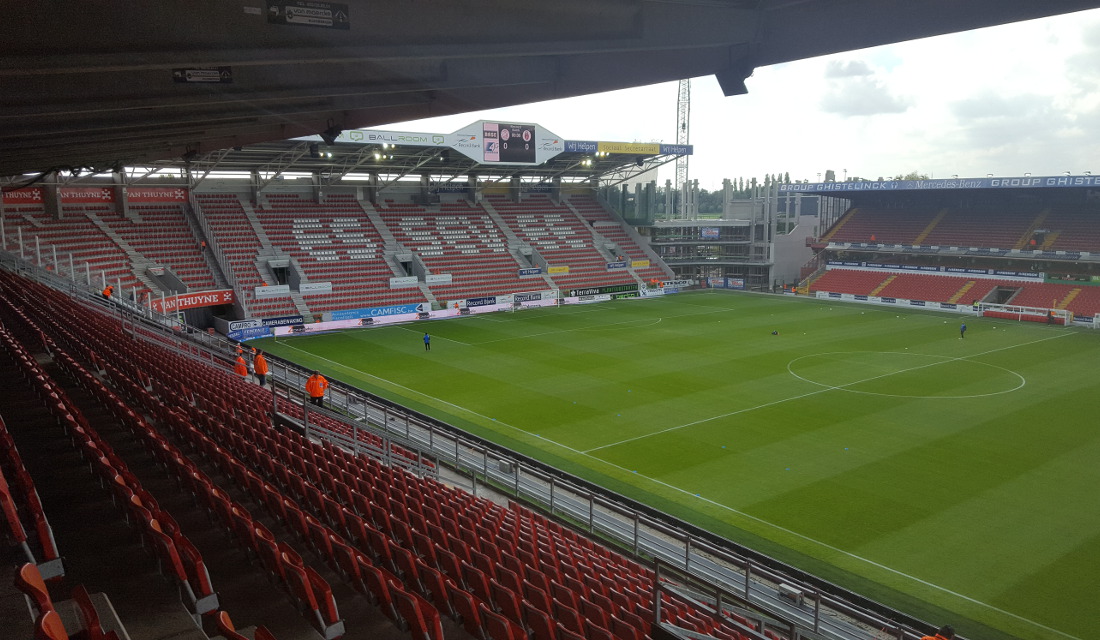 Key facts
Club: SV Zulte Waregem | Opening: 1957 | Capacity: 12,250 (2,710 standing)
History and description
Regenboogstadion got built to host the 1957 Cycling Road World Championships. The stadium received its name because the reward of the Road Race gold medal winner is a rainbow ("regenboog") jersey.
The stadium was therefore initially oval-shaped, with a cycling track that later turned into an athletics track, and one small seater stand.
In the next decades, two new seater stands got built on both sides, with small terraces remaining behind both goals. However, by the 2000s the stadium had severely aged and plans got made to extensively redevelop the stadium.
First plans were presented in 2008, however it took until 2014 for actual works to start. The eventual plans called for a gradual redevelopment of all stands resulting in an enclosed bowl with just over 13,000 places.
First, a new all-seater stand was built behind the goal, followed by a new covered terrace behind the other goal, which was completed in 2016. In 2017, a VIP stand was built in one of the corners.
The next stages will involve a renovation of the 1990s seater stand opposite the main stand, and finally the reconstruction of the main stand. However, the concrete timeline has not been confirmed yet.
How to get to Regenboogstadion
Regenboogstadion is located on the southern edge of Waregem's town centre. It lies a 5-minute walk away from the Markt, Waregem's central town square.
Waregem's railway station is located a little further north, a 15-minute walk from the stadium. Frequent direct trains, usually twice an hour, connect Waregem with Ghent in the north and Kortrijk in the south. There are also direct trains continuing past Ghent to Antwerp, which run about once an hour.
Address: Regenboogstadion, Zuiderlaan 17, 8790 Waregem
Eat, drink, and sleep near Regenboogstadion
Regenboogstadion is located on the edge of the centre of the sleepy town of Waregem. It is bordered by a pleasant park with large pond, and there are a few bars and restaurants in the town centre, particularly on the Markt square and Stationsstraat, but overall it is an uneventful town.
There are few hotels in Waregem, in fact, Hotel Ambassade is the only real option in Waregem's town centre at walking distance from the stadium. There are a few more options outside of town which could be an option if travelling by car.
Click here for an overview of hotels in Waregem. Most people, however, will decide to stay in nearby Ghent, or possibly Kortrijk, which is a short train journey away and somewhat more lively than Waregem.
Zulte Waregem Tickets
Tickets for Zulte Waregem games can be bought online, or at the ticket windows of the stadium on the day of the match.
Zulte Waregem will only sell out the odd high-profile match.
Ticket prices range from €20.00 for a lower-tier seat at the main stand to €35.00 for a central upper-tier seat at the main stand. Standing costs 15.00. Prices are raised with €5.00 for a number of high-profile matches.
Photos of Regenboogstadion
Useful websites
Essevee.be – Official website of SV Zulte Waregem.
Waregem.be – Waregem tourism information.