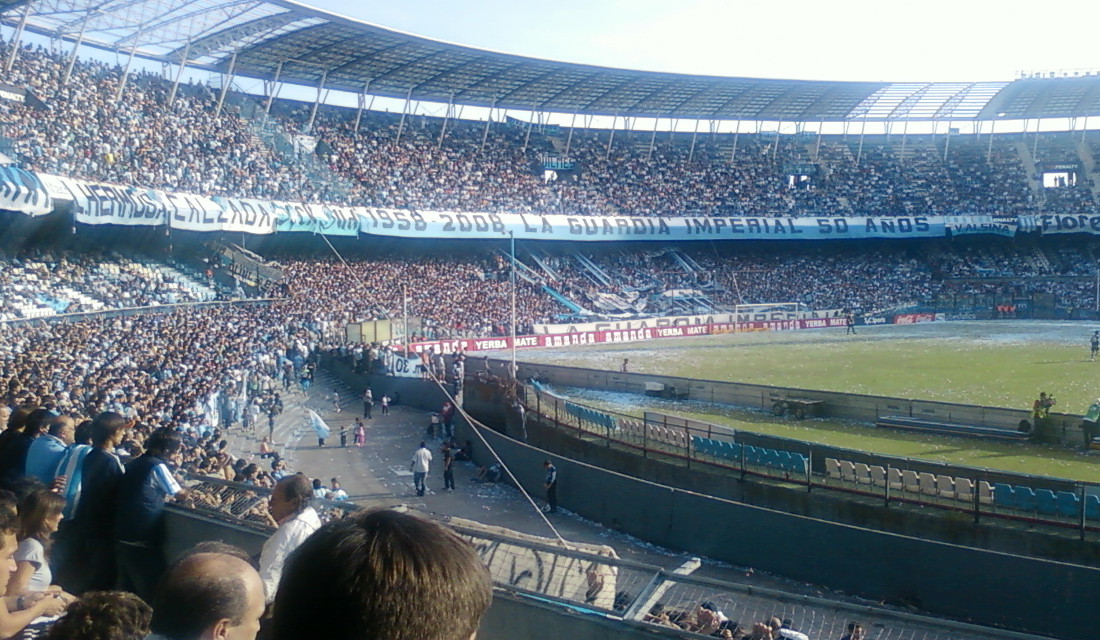 Key facts
Club: Racing Club | Opening: 1950 | Capacity: 50,000
History and description
Estadio Juan Domingo Presidente Perón, often referred to as El Cilindro, was built between 1947 and 1950.
Estadio Presidente Peron replaced Racing's old ground at the same site, and was made possible by a loan of the Argentine government. In return for his support, then Argentine president Péron was made honorary president, his wife Evita honorary member, and the stadium was named in his honour.
El Cilindro officially opened on 3 September 1950 with a league match between Racing and Velez Sarsfield (1-0).
The stadium could initially hold about 100,000 fans, however this number was regularly passed as many fans entered illegally. For example, an estimated 115,000 people were witness of Racing beating Celtic in the second leg of the 1967 Intercontinental Cup final.
El Cilindro underwent a large redevelopment between 1995 and 1997, which included the construction of a roof that covered all seats. At the same time, capacity got reduced to its current amount.
While being one of Argentina's largest stadiums, it was never chosen as a venue for any international tournament held in Argentina, mainly due to the competition of nearby Estadio Monumental.
(photos of the present Estadio Presidente Peron below)
How to get to El Cilindro
Estadio Presidente Peron is located in the city of Avellaneda, a suburb of Buenos Aires just south of the Capital Federal city limits. The stadium lies about 7 kilometres south of Plaza de Mayo in Buenos Aires' microcentro, and about 4 kilometres from the La Boca area.
Bus (colectivo) 10 and 17 connect the stadium with Buenos Aires' microcentro. Get on the bus at Maipú (which runs north-south through the centre), and get off at Avenida Manuel Belgrano, one block from the stadium. The ride takes approximately 35 minutes and goes through the La Boca neighbourhood. Other buses leave from Plaza Constitucion station (line 100, 148, 98, 45, 154).
If you wish to avoid navigating the sometimes confusing Buenos Aires bus system, taking a train to Dario Maxi (Santillan y Kosteki) is an alternative. The walk from Dario Maxi station to El Cilindro only takes 10 minutes. Frequent trains depart from Plaza Constitucion station (which is on metro line C) for the 8-minute journey.
Address: Pasaje Mozart y O.O. Corbatta, Avellaneda, Provincia de Buenos Aires
Racing Tickets
Tickets can generally be bought at the stadium, the club office at Nogoya 3045 in the west of Buenos Aires, or the club store at Lavalle 1650 in the microcentro.
Tickets are usually also available on the day of the match at the ticket windows of the stadium.
Ticket prices can depend on the opponent, but expect to pay from AR$250 t0 AR$400 for a place at one of the terraces and between AR$400 and AR$800 for a seat.
For more information call +54 4502 7396 or email sedecapital@racingclub.com.
Photos of El Cilindro
El Cilindro on Instagram
[instagram-feed location="217310344″]
Relevant Internet links
Racingclub.com.ar – Official website of Racing Club.
Bue.gov.ar – Official website of the city of Buenos Aires.
Comoviajo.com – Plan your bus or metro trip around Buenos Aires.