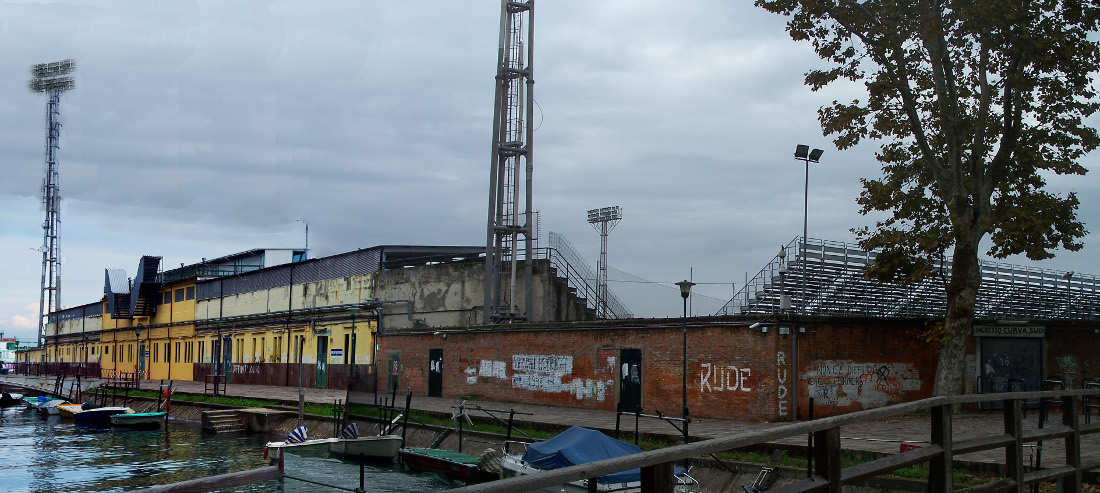 Key facts
Club: Foot Ball Club Unione Venezia | Opening: 1913 | Capacity: 7,450 seats
History and description
Stadio Pierluigi Penzo opened in 1913, which makes it the second oldest stadium with a professional club in Italy.
The stadium was initially a simple wooden structure, but got further expanded in the 1920s. Works included the construction of a new concrete main stand. With the promotion of Venezia to the Seria A in 1939, the stadium got further modernised and enlarged.
Stadio Pierluigi Penzo set its record attendance in 1966 when 26,000 spectators witnessed a match between Venezia and Milan.
The stadium got heavily damaged when a tornado hit the island in 1971. Few repairs were made and capacity therefore dropped to a mere 5,000 places.
When Venezia started to climb up the leagues again in the 1990s, the stadium got slowly expanded, and new makeshift stands were added when they promoted to Serie A in 1998. It could hold just under 15,000 spectators then.
In the last decade, capacity has declined again due to safety measures. The stadium has slowly fallen into disrepair and plans have been made for the construction of a new stadium, but progress has been slow and realisation remains unclear.
How to get to Stadio Pierluigi Penzo
Stadio Pierluigi Penzo is located on Isola di Sant'Elena island, which lies on the south-eastern tip of the main island group. The walk from Piazza San Marco takes a little less than 30 minutes.
The railway station is on the other side of the main island, but one can catch one of the ACTV boats to get to the stadium quickly. Boat 1, 51, 52, 41, 42, 61, and 62 all go to the Isola di Sant'Elena. Some of these can also be caught at Piazza San Marco, from where it is a 10-minute journey.
Address: Fondamente Sant'Elena, 30123 Venezia
Venezia Tickets
Tickets for Venezia matches can be bought at one of the pre-sale points in the Venezia province. In the city of Venice this is the Better.Marte souvenir store at the Calle dei Albanesi 42/61 right at the back of Palazzo Ducale.
Tickets are generally also available at the stadium on the day of the match. Identification is required to buy tickets.
Ticket prices range from €10.00 for a seat at the Curva Sud to €30.00 for a central seat at the main stand. Tickets are a few Euros cheaper if bought in pre-sale.
Photos of Stadio Pierluigi Penzo
Relevant Internet links
Fcbunionevenezia.com – Official website of Foot Ball Club Unione Venezia.
Turismovenezia.it – Tourism website of the province of Venezia.
Actv.it – Information on the ACTV public transport boats.