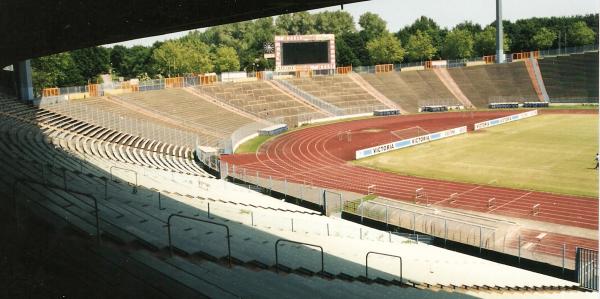 Key facts
Club: FC Schalke 04 | Opening: 1973 | Closing: 2001 | Final capacity: 62,004 | Maximum capacity: 70,600
Description
From 1973 until 2001 the Parkstadion was the home ground of FC Schalke 04. After a last renovation in 1998 it offered a capacity of 62,004, of which 17,042 standing places (reduced to 55,877 for international matches).
First plans to build a larger stadium for Schalke 04 arose in the early 1960s. At that time Schalke played its home matches at the Glückauf-Kampfbahn, which could hold about 34,000 fans.
It took until October 1967 until Gelsenkirchen's city council finally gave the go-ahead, mostly driven by the desire to be a playing venue at the 1974 World Cup. Construction started 2 years later and on the 4th of August 1973 the Parkstadion opened with a friendly match between Schalke and Feyenoord Rotterdam.
Five matches were played at the Parkstadion during the World Cup, among which three matches in the second group stage. Fourteen years later the stadium would again host matches at an international tournament, this time two group matches during Euro 1988.
In the 1990s it became however increasingly clear that the stadium had gotten significantly outdated with its lack of comfort, its stands far away from the pitch, and general lack of cover. As a consequence Schalke 04 started looking into the possibilities of building a brand-new stadium and in 1998 construction of the Veltins Arena began at an adjacent site.
The Veltins Arena opened three years later in the summer of 2001. The last competitive match played at the Parkstadion was between Schalke 04 and SpVgg Unterhaching on the 19th of May 2001.
The stadium has been partly demolished since, though large parts still exist today.