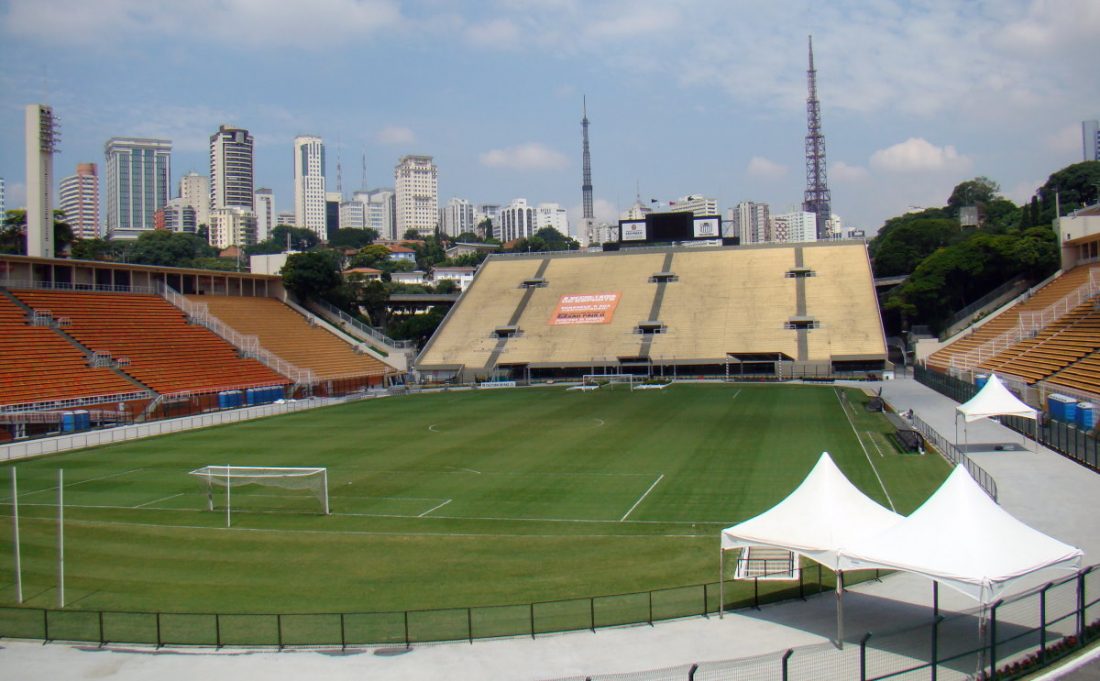 Key facts
Club: none| Opening: 1940 | Capacity: 40,199 seats
History and description
Estádio do Pacaembu officially opened on 27 April 1940. The first match, as part of a double match, was played one day later between Palmeiras and Coritiba (6-2). The match was immediately followed by one between Corinthians and Atlético Mineiro (4-2). Pacaembu could hold about 70,000 spectators at that time.
The record attendance of the stadium was set two years later when 71,281 people visited the derby between Corinthians and São Paulo.
Pacaembu was one of the six playing venues of the 1950 World Cup. The stadium hosted three matches during the first group phase, and, together with Maracaña, another three during the final group phase.
In 1961, the stadium changed its name to Estádio Municipal Paulo Machado de Carvalho, though this name never caught on and the people kept referring to the stadium as Pacaembu. A new stand was built in 1970, but after that the stadium hardly changed.
Over the years, the stadium got used by all Sao Paulo clubs. Most recently it was the home of Corinthians, but that club moved out when the Arena Corinthians opened in 2014. 
Pacaembu is still occasionally used for football matches, but increasingly less as all major Sao Paulo clubs have their own arena now.
Due to the high maintenance costs of the stadium, the city of Sao Paulo, who own the stadium, are looking to lease the stadium to a private party.
(photos of the present Pacaembu below)
How to get to Pacaembu
Estádio do Pacaembu is located about 3 kilometres east of downtown São Paulo. The stadium furthermore lies about a kilometre north, slightly uphill, from the northern part of the Avenida Paulista (and its entertainments and shopping areas). It is situated in a generally well-off neighbourhood.
Pacaembu lies a 15-minute walk away from metro station Paulista, which is on the yellow line 4 and also runs through downtown.
Station Clínicas, on the green line 2, is located at a similar distance, whereas stations Sumare and Conolação, on the same line, are only a few minutes further away.
Address: Praça Charles Miller s/n, São Paulo
Pacaembu Stadium Tours
Estádio do Pacaembu houses the Museu do Futebol, Brazil's national football museum.
The museum opens from Tuesday to Sunday from 9:00 am to 5:00 pm. Entrance costs R$ 6.00.
Photos of Pacaembu
Useful Internet links
Corinthians.com.br – Official website of SC Corinthians Paulista.
Cidadedesaopaulo.com.br – Official tourism site of the city of São Paulo.
Metro.sp.gov.br – Information about the São Paulo metro.