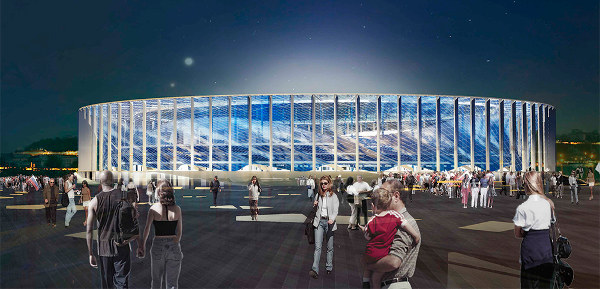 Key facts
Club: FC Volga Nizhny Novgorod | Capacity: 44,899 seats | Scheduled opening: 2017 | Status: under construction
Description
Nizhny Novgorod Stadium is a currently under-construction new stadium in the city of Nizhny Novgorod that will be one of the playing venues of the 2018 World Cup.
Nizhny Novgorod Stadium was part of the Russian bid to host the 2018 World Cup, and got confirmed in 2012 as one of the 12 playing venues. The stadium will furthermore become the new home of FC Volga, replacing their present Lokomotiv Stadium.
Construction of the stadium started in early 2015. By the middle of 2016, most of the lower tier had been erected and a start had been made on the upper tier. The stadium is scheduled to be completed in 2017.
The stadium's design has been inspired by the nature of the Volga region, and consists of a semi-transparent facade that can be lit up at night. The seats will be divided over two tiers.
Nizhny Novgorod Stadium is being built at a site in central Nizhny Novgorod on the west bank where the Oka and Volga rivers come together. It is located less than 3 kilometres from Nizhny's historical heart and Kremlin, on the other side of the Oka river, and less than 2 kilometres from Nizhny's main railway station on the same side of the Oka.
During the World Cup, Nizhny Novgorod Stadium is scheduled to host four first round group matches, one round of 16 match, and one quarter-final.