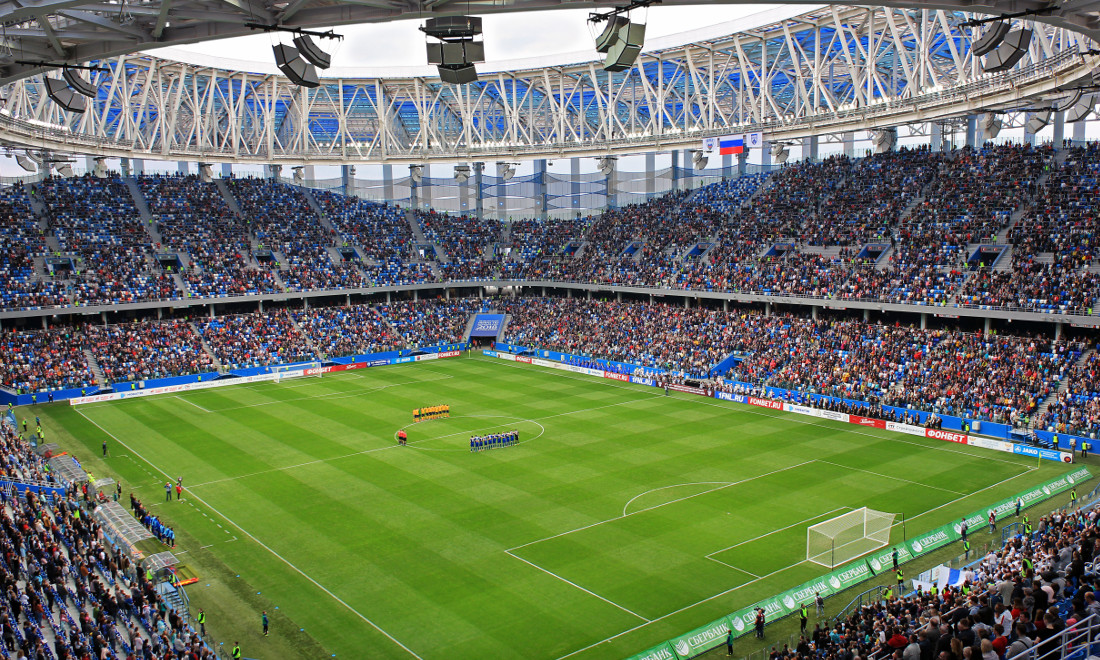 Key facts
Club: FC Nizhny Novgorod | Opening: 2018 | Capacity: 44,899 seats
History and description
Nizhny Novgorod Stadium is a recently opened new stadium in the city of Nizhny Novgorod that was one of the playing venues of the 2018 World Cup. It furthermore replaced Lokomotiv Stadium as the home of FC Nizhny Novgorod (previously FC Volga and FC Olimpiyets).
Nizhny Novgorod Stadium was part of the Russian bid to host the 2018 World Cup, and got confirmed in 2012 as one of the 12 playing venues. Construction of the stadium started in early 2015 and was completed three years later in 2018.
The stadium officially opened on 15 April 2018 with a league match between Olimpiyets and Zenith II.
Nizhny Novgorod Stadium's design has been inspired by the nature of the Volga region, and consists of a semi-transparent facade that can be lit up at night.
During the World Cup, Nizhny Novgorod Stadium hosted four first round group matches, one round of 16 match, and the quarter-final between France and Uruguay (2-0).
How to get to Nizhny Novgorod Stadium
Nizhny Novgorod Stadium is being built at a site in central Nizhny Novgorod on the west bank of the river Volga where the Oka and Volga rivers come together.
It is located less than 3 kilometres from Nizhny's historical heart and the Kremlin on the other side of the Oka river, and less than 2 kilometres from Nizhny's main railway station (Moskovsky) on the same side of the Oka.
You'll therefore be able to walk to the stadium from most central locations.
Eat, drink, and sleep near Nizhny Novgorod Stadium
Nizhny Novgorod Stadium is picturesquely located on the banks of the river Volga just outside of Nizhny Novgorod's centre. It is a fairly quiet area that mainly consists of residential buildings, but right next door there is a large shopping centre with various places to get something to eat.
Just south of the stadium along the Oka river lies the Strelka area which includes the Nizhny Novgorod Fair and Alexander Nevsky Cathedral, which is worth a walk around and has the odd place to eat or drink.
However, most will opt to eat and drink in Nizhny Novgorod's pleasant city centre on the other bank of the river, either around the main pedestrian thoroughfare Bolshaya Pokrovskaya Street, or closer to the river around Rozhdestvenskaya Street.
There are a few hotels to choose from that are located near the stadium, and many more apartment rentals. Nikitin Hotel gets superb reviews, and Titul Hotel and Shinel Hotel are other good options at short walking distance of the stadium. A little further away, the massive Marins Park Hotel is another excellent option. There are a few more hotels in the same area around Moskovsky train station, which will be convenient if you've got an early train out.
Click here for an overview of hotels near Nizhny Novgorod Stadium. Of course, if you're spending a little more time in Nizhny Novgorod you'll likely prefer a hotel in the city centre. Click here to explore hotels in Nizhny Novogorod's city centre.
FC Nizhny Novgorod Tickets
FC Nizhny Novgorod tickets can be bought online through the official website or Kassir.
Tickets range in price from RUB 200.00 for a seat behind the goal to RUB 500.00 for a central seat at the main stand.
Photos of Nizhny Novgorod Stadium
Photo credits: © Bestalex
Useful websites
Fcnn.ru – Official website of FC Nizhny Novgorod