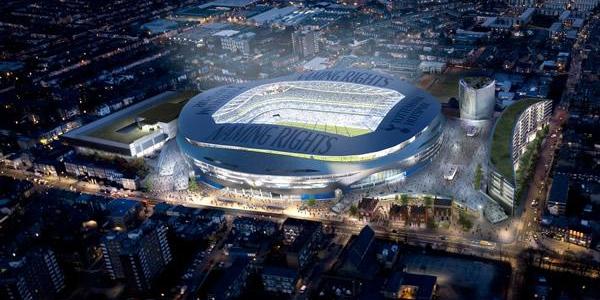 Key facts
Club: Tottenham Hotspur FC | Capacity: 56,250 seats | Scheduled opening: n/a | Status: in planning
Description
Tottenham Hotspur is currently in an advanced planning stage of building a new stadium at a site next to their current stadium White Hart Lane.
For years the club had been looking for ways to increase its revenue by either refurbishing White Hart Lane, building a brand new stadium, or moving to a different already existing stadium (which at different points in time was either the new Wembley Stadium or the 2012 Olympic Stadium).
However, after loosing out on the first Olympic Stadium bid and not deciding to participate in the next round, the club now seems fully set on continuing with plans that were first presented in 2008, and are often referred to as the Northumberland Development Project.
These plans involve the construction of a new stadium with a capacity of 56,250 seats which is to be built adjacent to White Hart Lane. The project furthermore aims at reenergizing the Tottenham area, for which the stadium serves as an anchor and around which other smaller projects will be tied. These projects include a central square next to the stadium, new shopping opportunities, new housing, and the refurbishment of existing historic buildings.
The stadium will be bowl-shaped, with flowing lines similar to the Emirates stadium, and a single-tier home stand for the short end.
The club has already been given planning permission and is currently working on securing funding for the project, for which a naming rights deal seems an essential part. Due to the difficult current financial climate the club has not yet given a concrete schedule on when it hopes to start and complete construction.