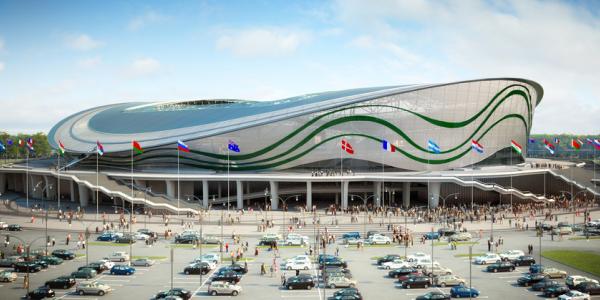 Key facts
Club: FC Rubin Kazan | Capacity: 45,000 seats | Scheduled opening: 2013 | Status: under construction
Description
FC Rubin Kazan is currently building a new stadium with a capacity of 45,000 seats.
Construction of the stadium started in May 2010 and is expected to be completed by the end of 2012, though the stadium won't be opened until the spring of 2013.
By the middle of 2012 foundation works had been completed, most of the stands and main body had been erected, and works were being performed on installing the roof.
The stadium is getting built in the north-east of the city of Kazan, on the west bank of the Kazanka river, about 6 kilometres from central Kazan. A metro extension that will connect the stadium with the centre is currently under construction.
The stadium has been selected as one of the playing venues for the 2018 World Cup. It will also be a venue at the 2013 Universiade, hosting the opening and closing ceremonies, and the football tournament.