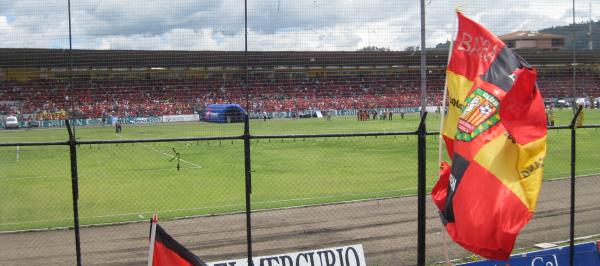 Ecuadorian side Deportivo Cuenca is set for a redevelopment of their Estadio Alejandro Serrano Aguilar. This is the result of a US$15 million investment the Ecuadorian government promised to contribute to the project.
The southern Ecuadorian side has been playing at Estadio Alejandro Serrano Aguilar since 1945, but the state of the stadium has significantly deteriorated over the years.
In the present plans the athletics track will be removed and new stands will be built in rectangular shape, of which the main stand will be covered. Capacity will increase from just over 20,000 to 30,000 places, and there will be no fences separating the fans from the pitch.
Deportivo Cuenca, the city of Cuenca, and the local sports body, owner of the stadium, will finalise the studies in the upcoming months and hope top start building works later this year.
While prospects of the new stadium look rosy, there will undoubtedly be further obstacles to be overcome as recent failed new stadium projects in the capital of Quito have proved. Both El Nacional and Deportivo Quito have made plans to leave the national stadium, Estadio Olímpico Atahualpa, but both have thus far failed to close a deal. The ambitious renovation plans for the national stadium itself also seemed to have been watered down significantly.
These are the renderings for the redevelopment of Estadio Alejandro Aguilar that have been presented by Cuenca: