Estádio Municipal de Aveiro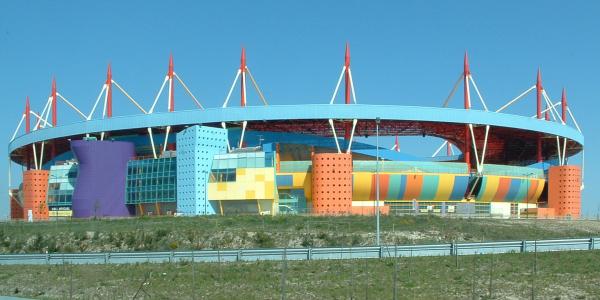 Key facts
Club: SC Beira-Mar | Opening: 2003 | Capacity: 32,830 seats
History and description
Estádio Municipal de Aveiro was built to serve as a playing venue for the Euro 2004 tournament.
The stadium officially opened on the 15th of November 2003 with a friendly match between the national teams of Portugal and Greece.
Estádio Municipal de Aveiro was designed by architect Tomás Taveira. It stands out through its colourful design. Total construction costs amounted to €63 million.
During the 2004 European Championships, the stadium hosted two group matches.
Estádio Municipal de Aveiro is owned by the city of Aveiro, and its high maintenance costs have weighed heavily on local budgets. Voices have therefore gone up to tear the stadium down and replace it by a smaller one, but no plans have become concrete yet.
Getting there
Estádio Municipal de Aveiro is located in the far north-east of the small city of Aveiro at an industrial zone next to the A25 motorway. It lies about 5.5 kilometres away from Aveiro's historic city centre, and slightly less from its main train station.
Regular direct trains run to the city from Porto and Lisbon.
Address: Estádio Municipal de Aveiro, Lugar de Taboeira, 3804-508 Aveiro
Tickets
Tickets for Beira-Mar games can be bought at the club store at Estádio Municipal de Aveiro, or at the store at Beira-Mar's old Estádio Mario Duarte, located about a kilometre south of Aveiro's city centre.
Tickets are also available on the gate on the day of the match. Beira-Mar hardly ever sells out a match.
Ticket are generally only available for the long sides and typically range in price from €10.00 to €20.00.
Photos
Relevant Internet links

Beiramar.pt – Official website of SC Beira-Mar.
Aveiro.eu – Aveiro tourism information.