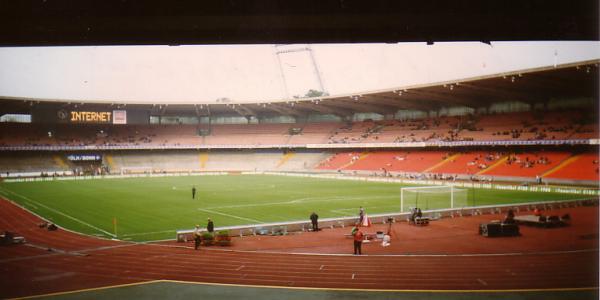 Key facts
Club: 1. FC Köln | Opening: 1923 | Closing: 2001 | Final capacity: 61,188 | Maximum capacity: 80,000
Description
The Müngersdorfer Stadion is the past home of 1. FC Köln. The stadium stood in the place of the present RheinEnergieStadion before it got demolished in 2001.
Main objective of the construction of the Müngersdorfer Stadion was to enhance the status of the city of Cologne in the years following the First World War in a time of general pessimism. Its construction furthermore served to provide 15,000 people with work during the early 1920s.
The stadium opened on the 16th of September 1923 and a rumoured 300,000 people attended the opening. With 80,000 places it was at that moment one of the largest stadiums in Europe, though it only contained 3,000 seats. It was lovingly called the "Mother of German stadiums" and gave the German people a new source of pride.
In its early years it was the prime venue in Germany and used for a wide range of events. Its first international match was held in 1927 when 50,000 people saw Germany draw 2-2 with Holland.
While the stadium had aged reasonably well, 1. FC Köln kept making plans to turn the stadium into a proper football stadium. In the 1960s and early 1970s several proposals were made for a covered stadium with a capacity of around 80,000, however these plans were abandoned due to the high projected construction costs. This led to Cologne missing out on being a host city during the 1974 World Cup.
In 1973 construction then finally began of an almost complete new stadium with a capacity of 61,188. It was to be the first fully covered stadium in Germany and opened on the 12th of November 1975 with the derby between 1. FC Köln and Fortuna Köln.
Once again Cologne had one of the most modern stadiums in Germany and this time the venue did get selected as a playing venue for the Euro 1988 tournament. It hosted two group matches at the tournament.
By the late 1990s the stadium had significantly aged though and in order to be a host city at the 2006 World Cup plans were made to replace the stadium with a brand new one, the current RheinEnergieStadion.
The Müngersdorfer Stadion got demolished and replaced in several stages so that FC Köln could keep playing its home matches at the stadium. The new stadium got completed in 2004.