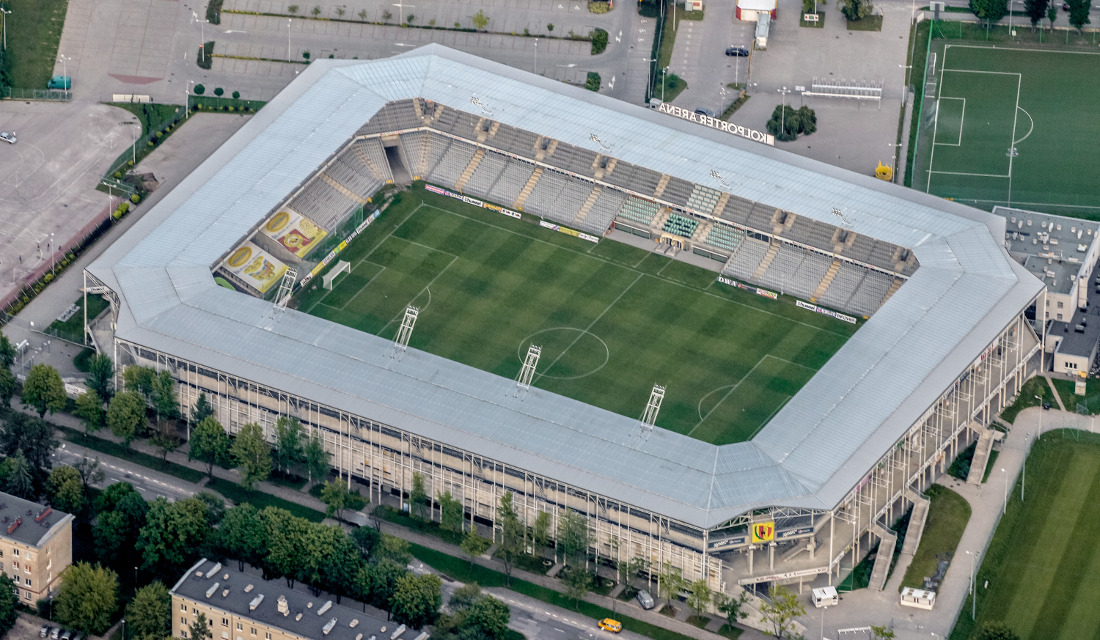 Key facts
Club: Korona Kielce | Opening: 2006 | Capacity: 15,500 seats
History and description
The Kolporter Arena, also known as Stadion Miejski w Kielcach, was built in the place of Kielce's old stadium that had stood at the same site. Construction of the new stadium started in 2004, and was completed two years later.
Stadion Miejski w Kielcach officially opened on 1 April 2006 with a league match between Korona Kielce and Zagłębia Lubin. The new stadium came at a cost of PLN 48 million.
In 2012, the Kolporter Arena hosted the Polish Cup final after other stadiums turned out to be unavailable due to various reasons.
How to get to the Kolporter Arena
The Kolporter Arena is located just south of Kielce's city centre. The walk from the central market square (Rynek) takes about 15 minutes, the walk from the railway station about 5 minutes more.
Direct trains connect Kielce with Krakow. Trains typically depart once every 1-2 hours for the journey that takes 1.5-2 hours depending on the service. The journey from Warsaw takes much longer, 4-5 hours, and a change is required.
Address: ul. Ściegiennego 8, Kielce
Korona Kielce Tickets
Tickets for Korona Kielce matches can be bought online, or at the Fan Shop at the Kolporter Arena.
Polish citizens need a Fan Card (Karta Kibica) to be able to attend a Korona home match. This card can be acquired at the club offices at the stadium. Foreigners should be able to buy a ticket with just an ID. For more information email kartakibica@korona-kielce.pl.
Ticket prices range from PLN 16.00 for a seat behind the goal to PLN 27.00 for a central seat at one of the long sides.
You can find a seating map here.
Photos of the Kolporter Arena
Relevant Internet links
Korona-kielce.pl – Official website of Korona Kielce.
Kielce.pl – Kielce tourist information.