Stadion Miejski im. Floriana Krygiera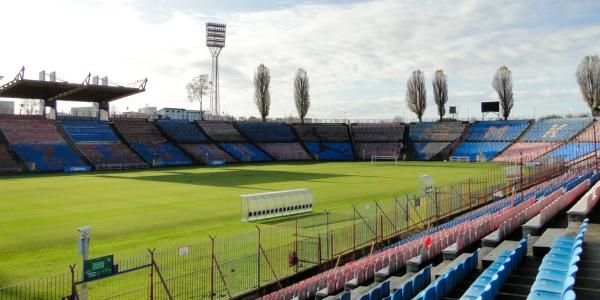 Key facts
Club: Pogoń Szczecin SA | Opening: 1925 | Capacity: 18,027 seats
History and description
First football was played at the site of Stadion Miejski in 1914, but it took until 1925 for the first stands to be built. The stadium could hold about 15,000 spectators at that time.
Stadion Miejski im. Floriana Krygiera got largely destroyed in the Second World War, but got rebuilt in 1949.
The stadium hardly changed in the following decades. It was the first stadium in Poland to get converted into an all-seater in 1995.
Further smaller refurbishments were made in 2009 and 2010.
Getting there
Stadion Miejski im. Floriana Krygiera is located in the west of Szczecin, just over 3 kilometres from the main railway station and a little less from the old town and city centre.
The walk from the old town takes about half an hour, but one can also take the tram. Take, for example, tram 7 from Plac Brama Portova. Take it in the direction of Krzekowo and get off at stop Karłowicza. The journey takes about 15 minutes.
From the north of the centre tram 5 is a better option. It stops, among others, at Plac Grunwaldzki. Get off at stop Karłowicza.
Address: ul Karłowicza 28, 71-102 Szczecin
Tickets
Tickets for Pogoń matches can be bought online (Polish citizens only), at the club office at the stadium, at the Dyskobol store at the Galaxy Centrum shopping centre in Szczecin's city centre, or at the Amber-Sport store at Ul. Pocztowa 34/2 also in the city centre.
To be able to buy a ticket you must present a Fan card (Polish), or identification (foreigners).
Tickets for a regular match range in price from PLN 20.00 to PLN 50.00. Prices are increased for a few high-profile matches to between PLN 30.00 and PLN 75.00.
Photos
Relevant Internet links

Pogonszczecin.pl – Official website of Pogoń Szczecin SA.
Szczecin.eu – Szczecin tourist information.
Jakdojade.pl – Public transport journey planner.