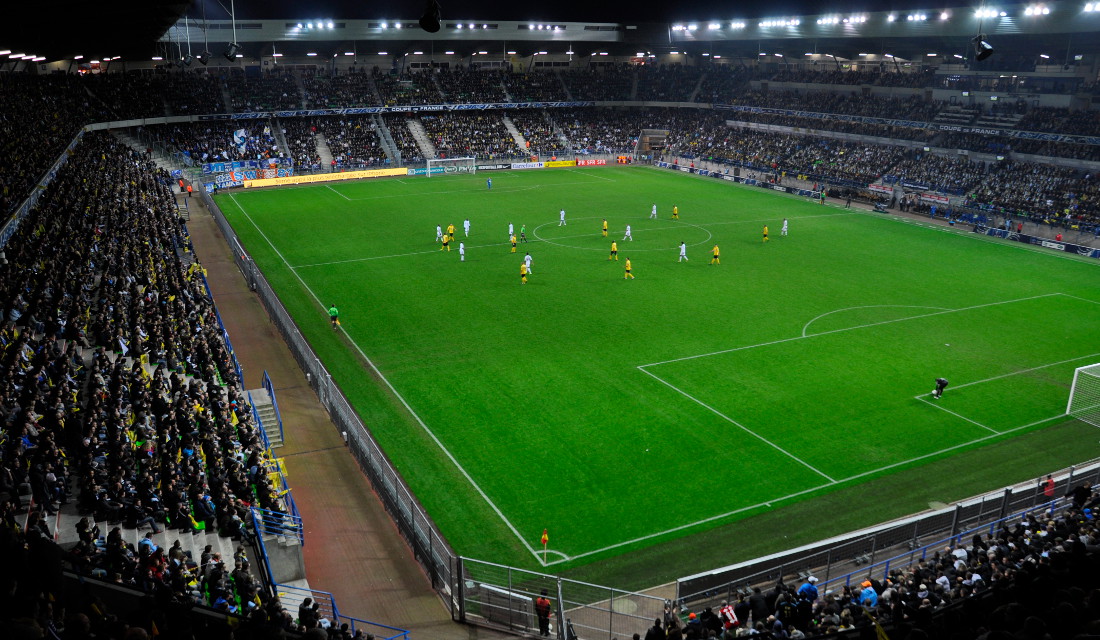 Key facts
Club: Stade Malherbe Caen | Opening: 1993 | Capacity: 21,000 seats
History and description
Stade Michel d'Ornano was built between December 1991 and June 1993. It replaced Caen's previous ground Stade de Venoix, and was one of the first modern stadiums to be built in the 1990s. The new stadium came at a cost of €22.7 million.
Stade Michel d'Ornano officially opened on 6 June 1993 with a friendly match between SM Caen and Bayern Munich (4-1).
Over the years, the French national football team have occasionally played an international at the stadium.
In 2016, the stadium underwent a minor refurbishment including the replacement of the green seats with blue ones.
How to get to Stade Michel d'Ornano
Stade Michel d'Ornano is located in the east of Caen, about 2.5 kilometres from Caen's city centre and 4 kilometres from the main rail station.
The walk from the eastern part of the city centre takes just over half an hour. Alternatively, bus 8 can get you to the stadium from St Pierre square in the centre. Take the bus in the direction of Beaulieu Brazza and get off at stop Stade d'Ornano. You can also take bus 2 from the city centre in the direction of Venoix Gallieni and get off at stop Gallieni, which is the last on line 2.
From the main rail station, first make your way to St Pierre in the centre (by foot, or one of the numerous buses and trams), and take bus 8 or 2 from there. Alternatively, take bus 3 in the direction of Carpiquet, get off at stop Bernard Palissy, and walk 5 to 10 minutes to the stadium (via the Rue Claude Chappe).
Frequent trains connect Caen with Paris (Paris St Lazare station), and locally with Rennes and Le Mans. The journey from Paris takes about 2 hours.
The nearest airport is Caen-Carpiquet Airport, just outside the city. Bus 3 that connects the airport with the city centre also passed close by Stade Michel d'Ornano. Deauville airport (50 kilometres) isn't too far either, but it is currently only serviced by a single Ryanair flight and getting from the airport to Caen by public transport takes about just as long as the journey from Paris.
Address: 23 Bd Georges Pompidou, 14064 Caen Cedex 4
Eat, drink, and sleep near Stade Michel d'Ornano
Stade Michel d'Ornano is located in a nice but quiet residential neighbourhood. While you may find the odd local cafe or restaurant, eating and drinking in Caen's pleasant city centre is likely a better idea.
If you wish to stay as close as possible to the stadium, there's a small B&B right opposite. The larger Hotel Ivan Vautier (expensive) and Hotel Crocus (cheap) are alternatives only 10 minutes walking from the stadium and might appeal to those travelling in by car.
Otherwise, you're more likely to end up staying in or around Caen's city centre. Click here for an overview of hotels in Caen.
Caen Tickets
Tickets for SM Caen matches can be purchased online, at the club shop at the stadium, or through one of regional sales outlets.
If tickets remain, these can also be bought on the gate on the day of the match. Caen doesn't often sell out, but booking in advance is advised for the high-profile matches.
Ticket prices depend on the opponent, but for a low-profile match start at €10.00 for a lower-tier seat behind the goal and range to €20.00 for a seat at the main stand. Prices go up for higher-profile to between €16.00 and €34.00 and even more for the top matches. It is much more expensive to buy on the day so booking in advance is recommended.
Stade Michel d'Ornano stadium tours
Caen offer guided stadium tours around the stadium that include the dressing rooms, VIP areas, dug-outs, and pitch, and last 90 minutes.
Tours run a few times a month, typically on Wednesdays at 3:00 pm, and cost €5.00. Check the official website for actual dates and bookings.
Photos of Stade Michel d'Ornano
Relevant Internet links
SMCaen.fr – Official website of Stade Malherbe Caen.
Tourisme.caen.fr – Website of the Caen tourist office.
Twisto.fr – Public transport information for the Caen area.