Estadio Metropolitano Roberto Meléndez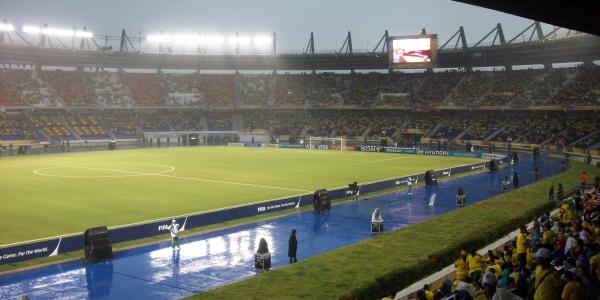 Key facts
Club: Junior de Baranquilla | Opening: 1986 | Capacity: 49,612 seats
History and description
Estadio Metropolitano Roberto Meléndez replaced Junior's old Estadio Romelio Martínez, which had become too small for the club.
Construction of the new stadium took 6 six years. It came at a cost of COP 1.3 billion, which was paid for by the city of Barranquilla, owner of the stadium.
Estadio Metropolitano officially opened on the 11th of May 1986 with a friendly between Junior and the Uruguay national team. The first goal was scored by Enzo Francescoli.
The stadium was one of the playing venues of the 2001 Cope América. It hosted all matches in Colombia's group A.
Estadio Metropolitano could initially hold 60,000 spectators, which was reduced to under 50,000 after it got extensively renovated for the 2011 U20 World Cup.
The stadium has been selected as the playing venue of the Colombian national team in their campaign to qualify for the 2014 World Cup.
Getting there
Estadio Metropolitano is located in the far south of the city of Barranquilla, just inside the city's ring road (Circunvalar). It lies about 6.5 kilometres from the city centre (centro) following the Calle Murillo in one straight line south.
The stadium lies furthermore about 10 kilometres from the upscale Washington area, which is toward the west of the centre.
Barranquilla's main bus terminal (Terminal de Transportes) lies even further south, about 2.5 kilometres from the stadium.
The stadium can be reached with Barranquilla's fixed lane modern Transmetro bus system. Station Joaquín Barrios Polo is a short 5-minute walk away from the stadium (follow the same avenue further south). The Transmetro can be boarded at the Calle Murillo, which runs just west of the centre, or at the Carrera Olaya Herrera, which runs from the city centre west toward the Washington area.
Address: Entre la Avenida Murillo y Avenida Circunvalar, Barranquilla
Tickets
Tickets for Junior matches can be bought at the official club store at shopping centre Portal del Prado in the city centre, or at any of the other pre-sale points.
These pre-sale points include the Olímpica supermarkets at the Calle 72 (with Cra. 47) and Calle 84 (with Cra. 67), the Licorera JK liquor stores, or the Lubricantes las Camelias auto service stations.
Tickets are generally also available at the ticket windows of the stadium from 3 hours before the start of the match.
Ticket prices range from COP 15,000 for a seat behind one of the goals to COP 50,000 for a seat at the main stand.
Photos
Relevant Internet links

Juniorbarranquilla.com – Official website of Junior de Barranquilla.
Transmetro.gov.co – Information on the Transmetro transport system.