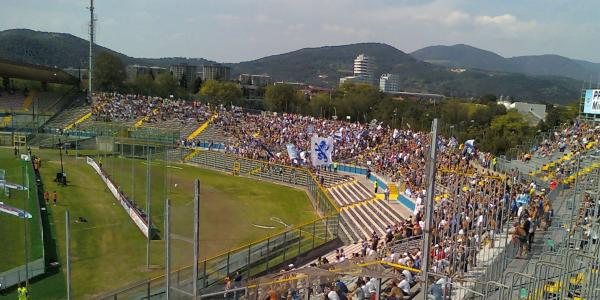 Key stats
Club: Brescia Calcio | Opening: 1959 | Capacity: 16,308 seats
History and description
Stadio Mario Rigamonti opened in 1959. It was named in honour of Mario Rigamonti, a player of the great Torino team that died in the Superga air disaster.
The stadium hardly changed in the next decades, and by the 2000s its state had significantly deteriorated with a reduced capacity from an initial 27,500 to just over 16,000.
Brescia therefore started looking into the possibility of building a new stadium, but all plans failed. The club recently again stated their wish for a new home, this time accompanying their wish with a threat to move to a stadium out of town.
In the meantime, Brescia is currently performing several renovations on the north curve.
Getting there
Stadio Mario Rigamonti is located in the north of Brescia at about 4 kilometres from Brescia's historic centre and one kilometre more from the main rail station.
If coming from the A4 motorway (Milan-Venice), take exit Brescia Ovest, and after the toll booths exit right toward the Tangenziale Ovest. Keep right, and then take the fork left, which brings you at a roundabout. Take the third exit toward the Via Milano onto the Tangenziale Ovest. Follow north for about 7.5 kilometres until the Tangenziale ends. Turn right following the football sign. Continue on the Via Triumplina south for over a kilometre (following for Centro), and turn left onto the Via dello Stadio following the sign for Stadio. The stadium lies shortly ahead on the left.
If using public transport, the stadium can be reached with bus 1. Take the bus from the rail station or Via Guiseppe Mazzini in the city centre. Get off at the Via Ambaraga 124. The journey takes about half an hour. Buses run regularly.
From 2013, one can also get to the stadium by the new light rail line that is set to open. Station Mompiano will be a short walk from the stadium.
Address: Via Giovanni Novagani, 25133 Brescia
Tickets
Tickets for Brescia matches can be bought at the ticket windows of the stadium on the day of the match. Tickets are also available at a few pre-sale points, of which the Libreria Tarantola at the Via Zanardelli 52 in Brescia's city centre is centrally located.
Brescia practically never sells out in Serie B.
Ticket prices range from €10.00 for a seat at the lower "Gradinata" side to €80.00 for a central seat at the main stand.
Photos
Relevant Internet links

Bresciacalcio.it – Official website of Brescia Calcio.
Bresciatourism.it – Tourism information for the city of Brescia.