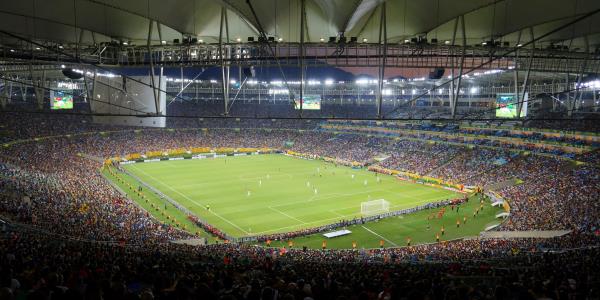 Key facts
Clubs: CR Flamengo and Fluminense FC | Opening: 1950 | Capacity: 78,838 seats
History and description
Maracanã, officially called Estádio Mário Filho, was built to serve as the flagship venue for the 1950 World Cup. It was meant to become the biggest football stadium in the world.
Construction began in August 1948 and was completed almost two years later. Maracanã officially opened on 16 June 1950 with a friendly between a selection of players from Rio de Janeiro and São Paulo.
Eight days later, Maracanã hosted the opening match of the 1950 World Cup between Brazil and Mexico (4-0). It would go on to host four more matches in the first round group stage and a further three in the second round stage, among which the deciding final match between Uruguay and Brazil (2-1).
The official attendance of the final was about 173,000 paying spectators, but it is estimated that more than 200,000 witnessed the game live from the stands.
The stadium was officially renamed in 1966 following the death of Brazilian journalist Mário Filho, but most people have kept referring to the stadium as Maracanã.
Maracanã hardly changed until the 1990s, when a deathly accident and resulting safety measures greatly reduced capacity. Shortly later it got converted into an all-seater.
When Brazil got awarded the 2014 World Cup in 2007, it was clear that Maracanã was destined to host the final and would therefore need a massive redevelopment.
Building works started in 2010 and involved the complete rebuilding of the bottom tier and the installation of a new roof with a capacity of 79,000 seats as a result. The stadium reopened on 2 June 2013 with a friendly international between Brazil and England (2-2).
Maracanã is scheduled to host a total of seven matches during the 2014 World Cup, including one quarter-final and the final. It also hosted several matches and the final of the 2013 Confederations Cup.
Maracanã is owned by the state of Rio de Janeiro, but has grown to become the regular home of Flamengo and Fluminense. Other Rio clubs such as Botafogo and Vasco da Gama also occasionally use the stadium for high-profile matches.
(photos of the present Maracanã below)
Getting there
Maracanã is located toward the east of Rio de Janeiro, about 5 kilometres from downtown Rio. It lies about 12 kilometres north of the Copacabana and Ipanema beach areas.
The stadium can be easily accessed by metro and train. Maracanã station is a stop on metro line 2, which can be boarded in downtown Rio or the Flamengo and Botafogo areas. It can also be reached with a transfer from line 1, which runs from the Copacabana and Ipanema areas.
Taking a commuter train from the Central do Brasil railway station is an alternative, though makes most of all sense if you are at the station anyway or are coming from the nearby central bus terminal. Otherwise you would get off the metro to get on a train, while the metro can bring you there directly.
If opting to take a train, take one on the red Ramal Deodoro line, and get off at station Maracanã.
Address: Rua Professor Eurico Rabelo, s/nº, portão 18, Maracanã, Rio de Janeiro
Eat, drink, and sleep
Maracanã is located in a predominantly residential area with little of interest around. It is not one of Rio's better areas, and there is therefore little reason to head to the stadium long before the match. Eating and drinking is better done in Rio's more touristic areas.
There are a few affordable hotels a short taxi ride or 20-minute walk (not advised at night) from the stadium, e.g. Gallant Hotel or Hotel Villa Tijuca, but if you have a little more money to spare you'll take more out of your stay if you choose one of the many hotels closer to the beaches in the tourist areas. The stadium is easily reached by metro.
Click here for an overview of hotels near Maracanã, and here for further options in Rio de Janeiro.
Tickets
Tickets for Flamengo matches can be bought at the ticket windows of Maracanã, the club facilities at Avenida Borges de Medeiros 997 in the Lagoa – Ipanema area, or any of the other pre-sale outlets. Brazilian citizens can also buy online.
Expect to pay between BR$100.00 for a seat in the upper sections to BR$ 350.00 for one in the VIP areas.
Tickets for Fluminense matches can be bought online via Futebolcard, at the ticket windows of Marcanã, or at any of the pre-sale outlets, which include the centrally-located club office at Rua Álvaro Chaves 41 in the Laranjeiras area.
Ticket prices usually start at BR$ 60.00.
Identification is required in order to be able to buy tickets.
Photos
Relevant Internet links

Flamengo.com.br – Official website of CR Flamengo.
Fluminense.com.br – Official website of Fluminense FC.
Rioguiaoficial.com.br – Official guide to Rio de Janeiro.
Metrorio.com.br – Information on the Rio de Janeiro  metro system.
Supervia.com.br – Information on the Riode Janeiro train system.