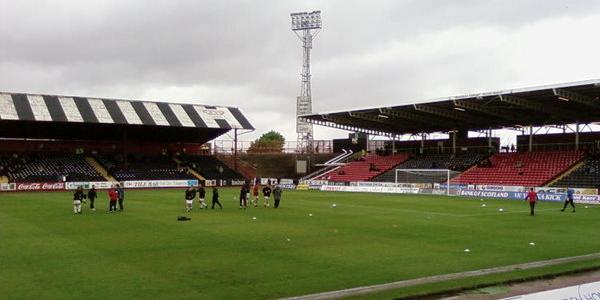 Key facts
Club: Saint Mirren FC | Opening: 1894 | Closing: 2009 | Final capacity: 10,900 seats
Description
Love Street, officially called St Mirren Park, was for over 115 years the home of Saint Mirren FC.
In the early 1890s, Saint Mirren played their home matches at a ground at Westmarch. However, a steep increase in rent forced them out and made them look for a new home.
Saint Mirren consequently rented a ground at Love Street from a Mr Fullerton, resulting in the initial name Fullerton Park.
The club played their first match at Love Street on the 8th of September 1894, but lost their opening match from Celtic (0-3).
Saint Mirren were almost forced out of Love Street again ten years later after they were once more faced with a large increase in rent, but in the end agreed to buy the land. In the following decade they managed to buy adjoining land to be able to expand the stadium.
The club built a new main stand in 1921, but while it had initially been planned to cover the entire length of the pitch, financial restraints meant that half the length was all that was possible. The rest of the bowl-shaped stadium consisted of terraces on earth banks.
Love Street recorded its highest attendances in 1949, when 47,438 spectators witnessed a Cup match against Celtic.
The stadium remained practically unchanged until 1955, when the North Bank received cover. Soon after, floodlights were installed.
Safety concerns in the 1970s resulted in the Love Street End terraces being demolished and replaced by new terraces closer to the goal and in rectangular shape.
Further changes were contemplated, but only made in the 1990s when new guidelines required the stadium to become an all-seater.
Works started in 1991 when the North Bank got fitted with seats. A few years later, in 1995, the Caledonia Street terraces got demolished and replaced by a new all-seater stand.
Five years later, the Love Street terraces suffered the same fate in order to meet the all-seater entry requirement for the newly formed Scottish Premier League. The result was a capacity of 10,900 seats.
In the mid 2000s, Saint Mirren found themselves in severe financial difficulties and the board decided that a sale of the Love Street land to a retailer was the only way out for the club. At the same time they proposed a new stadium at a less valuable site not far away from Love Street.
Plans got approved in 2005, the stadium got sold to supermarket chain Tesco, and construction of the new St Mirren Park began in 2008.
St Mirren played their last match at Love Street on the 3rd of January 2009. The match against Motherwell ended in a goalless draw.
Love Street got subsequently demolished in early 2010, but by then Tesco had already decided to build the planned new supermarket at a different site. It therefore sold the land to property developers for the construction of residential housing.