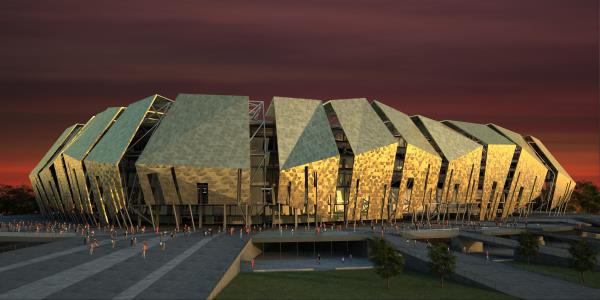 Key facts
Club: FC Kuban Krasnodar | Capacity: 45,000 seats | Status: cancelled
Description
FC Kuban Stadium was a proposed new stadium of Kuban Krasnodar. It was initially intended to be built for the 2018 World Cup, but Krasnodar did not get selected as a host city.
The stadium was to get designed by AFL Architects, whose design got chosen in June 2013. The shape of the stadium was based on that of a sunflower, a traditional flower of the Krasnodar region. The exterior intended to use a blind system that could ventilate the stadium in summer and isolate the spectators from cold winds in winter.
FC Kuban Stadium was to become the new home of Kuban Krasnodar, replacing Stadion Kuban.
The stadium was planned to get built on the northern edge of the city of Krasnodar, at about 9 kilometres from Krasnodar's city centre.
Construction of the stadium was expected to start around the end of 2013 and take 2 to 3 years, however the project did not get off the ground and finally got cancelled in 2015. Kuban instead opted to refurbish their current home Stadion Kuban.
Images of Stadion Kuban