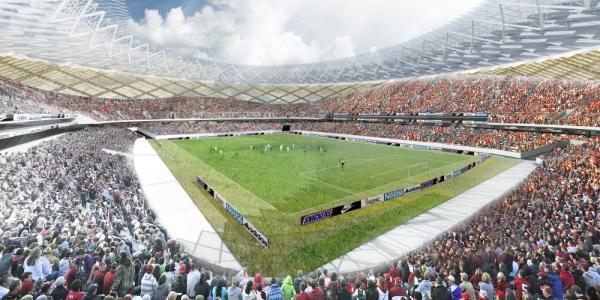 Key facts
Club: FC Kuban Krasnodar | Capacity: 50,000 seats | Scheduled opening: 2016 | Status: in planning
Description
Krasnodar Stadium is the proposed new stadium of FC Kuban Krasnodar. It was initially intended to be built for the 2018 World Cup, but Krasnodar did not get selected as a host city.
The definite plans for the new stadium were presented in April 2012, with the winning design coming from Russian design institute Mosproject-4 and US architecture firm HKS Architecture.
The shape of the stadium is based on that of a sunflower, a traditional flower of the Krasnodar region. The exterior uses a blind system that can ventilate the stadium in summer and isolate the spectators from cold winds in winter.
Krasnodar Stadium will become the new home of FC Kuban Krasnodar, replacing Stadion Kuban. FC Krasnodar, the city's other major club, will not move to the new stadium, but has instead plans to build an own new stadium with lower capacity.
The stadium will get built on the northern edge of the city of Krasnodar, at about 9 kilometres from Krasnodar's city centre.
Construction of the stadium was expected to start around the end of 2013 and take 2 to 3 years. Its status is currently unclear after Krasnodar did not get selected as a host city for the World Cup.