Seacon Stadion – de Koel –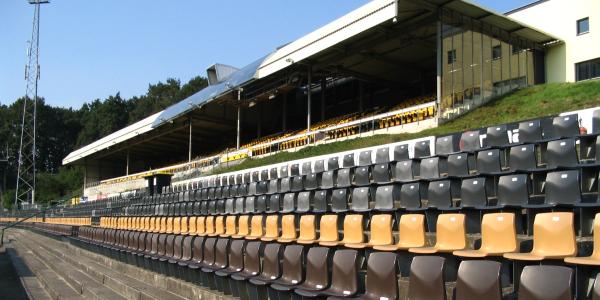 Key facts
Club: VVV Venlo | Opening: 1972 | Capacity: 8,000 (1,500 standing)
History and description
Stadion de Koel opened on the 19th of March 1972 with a match between VVV and Cambuur (1-1).
The stadium has hardly changed since its opening, though received a refurbishment in 2007 when VVV promoted to the Eredivisie.
De Koel lies in a den, which translates to Koel in the Dutch dialect that is locally spoken. The dressing rooms are located on top of the banks, which means that the players have to walk down an open-air flight of stairs to reach the pitch.
In 2005, the stadium got renamed Seacon Stadion as part of a sponsorship deal.
De Koel is one of the smallest grounds of the Dutch Eredivisie and lacks many modern facilities. VVV Venlo have therefore been planning a move to a new stadium with 15,000 seats, but several planning issues and the relegation of the club to the Dutch second division have put the project in jeopardy.
Getting there
Stadion de Koel is located on the southern edge of the city of Venlo. As Venlo is rather small this means that it is no further than 2 kilometres from the city centre and even less from the railway station. Driving further south it is only 1.5 kilometres to the German border.
The stadium lies on the Kaldenkerkerweg, which starts in the city centre and continues to Germany. The stadium is easily reached by car from one of the motorways passing the city by making your way to the city centre and taking the Kaldenkerkerweg south.
Bus 5can also take you from the rail station to the stadium. A bus leaves every half-an-hour for the 5-minute journey. Take a bus in the direction of Veegtes and get off at Marianum College.
Address: Kaldenkerkerweg 182, 5915 AH Venlo
Tickets
Tickets for VVV Venlo games can be bought online, at the ticket office at the stadium, or at one of the Ticketbox pre-sale points.
VVV Venlo require possession of a VVV Club Card to be able to buy tickets for a number of matches that are considered to be high-risk for fan violence.
If tickets remain available, these may get sold on the gate on the day of the match. VVV will rarely sell out in the Dutch second division.
Ticket prices range from €10.00 for most uncovered lower-tier seats to €20.00 for a central seat at the covered long side.
For more information contact ticketing@vvv-venlo.nl.
Photos
Related Internet links

VVV-Venlo.nl – Official website of VVV Venlo.
Vvvvenlo.nl – Website of the Venlo area tourist office.
9292ov.nl – Journey planner for public transport.