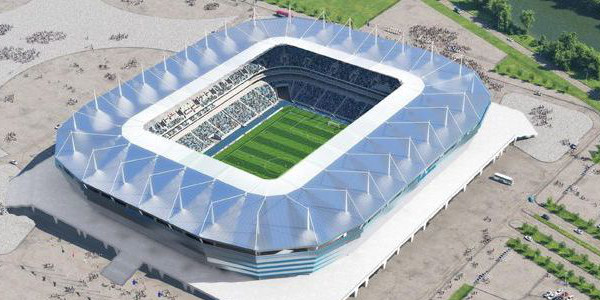 Key facts
Club: FC Baltika Kaliningrad | Capacity: 35,212 seats | Scheduled opening: 2017 | Status: under construction
Description
Kaliningrad Stadium, also known as the Arena Baltika, is a currently under-construction new stadium in the city of Kaliningrad, that will be one of the playing venues of the 2018 World Cup. After the World Cup, the stadium will become the home of FC Baltika, who currently play at the modest Baltika Stadium.
Construction of Kaliningrad Stadium started in September 2015, making it the last Russia World Cup to get under way. Delays had plagued the project, caused by financial difficulties and the bankruptcy of the company responsible for the design. Initial plans had aimed for a capacity of 45,000 and a retractable roof, but these had to get scaled back to a simpler design with 35,000 seats.
By the middle of 2016, most of the lower tier had been erected and a start had been made on the upper tier, resulting in the stadium being roughly 20% finished. The stadium is scheduled to be completed by the end of 2017.
Kaliningrad Stadium is being built at a site in central Kaliningrad on Oktyabrsky Island in the Pregola river. It is located less than 2 kilometres from the central Konigsberg Cathedral, and less than 3 kilometres from the main railway station.
During the World Cup, Kaliningrad Stadium is scheduled to host four first round group matches.