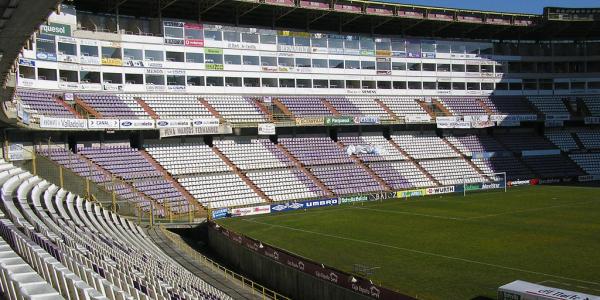 Key facts
Club: Real Valladolid CF | Opening: 1982 | Capacity: 26,512 seats
History and description
Estadio José Zorrilla was built to serve as a playing venue for the 1982 World Cup. It replaced the old Estadio José Zorrilla, which had served the club from 1940.
The new stadium opened on the 20th of February 1982 with a league match between Valladolid and Athletic Club (1-0).
Estadio José Zorrilla back then consisted of one single bowl-shaped tier and an additional tier with cover at both sides. The capacity of the stadium was just over 30,000.
During the 1982 World Cup, Estadio José Zorilla hosted three group matches.
The stadium's exposure to the elements quickly earned it the nickname Estadio de la Pulmonia. The club therefore decided to enclose the stadium at the north end giving it the shape of a horseshoe, at the same time raising capacity to 37,500.
In 1995, Estadio José Zorrilla got converted into an all-seater, reducing capacity to its current level. Plans have been made to also close the southern end of the stadium, which would increase capacity to an estimated 40,000, but these do not seem close to be realised at the moment.
Getting there
Estadio José Zorrilla is located on the western edge of the city of Valladolid, about 3 kilometres from the historic city centre, railway station, and bus station.
The stadium lies almost adjacent to the A62 "Autovía de Castilla" motorway. Take exit 127 Parquesol/Estadio.
If using public transport, the stadium can be reached with bus 8. Take the bus from Plaza de España and get off at the Calle Mon. S. Lorenzo de El Escorial (around Centro Cultural Miguel Delibes). Buses go at least every 15 minutes.
An alternative is bus 9, which can be taken from the Plaza Madrid or railway and bus station. Get off at the Calle Hernando de Acuña (corner Juan de Valladolid) from where it is a 10-minute walk to the stadium.
On matchdays there is a special bus service to the stadium that leaves one hour before the match. Buses run from, among others, the Plaza Mayor and bus station.
Address: Avenida del Mundial 82 s/n, 47014 Valladolid
Tickets
Tickets for Real Valladolid games can be bought online through viagogo, or at the ticket windows of the stadium on the day before the match or from three hours before the match. Valladolid only sell out the occasional high-profile match.
Ticket prices typically start at €25.00 for a seat at one of the ends and range up to €50.00 for a central upper-tier seat at the main stand.
Photos
Relevant Internet links

Realvalladolid.es – Official website of Real Valladolid CF.
Info.valladolid.es – Valladolid tourist information.
Auvasa.es – Valladolid public transport information.