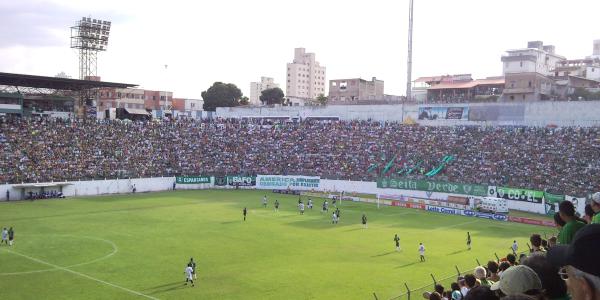 Key facts
Club: América Futebol Clube | Opening: 1950 | Closing: 2010 | Final capacity: 30,000
History and description
Estádio Independência, officially called Estádio Raimundo Sampaio, was built to serve as one of the playing venues of the 1950 World Cup.
Construction began in 1947, and the stadium officially opened on the 25th of June 1950 with the World Cup match between Yugoslavia and Switzerland (3-0).
Its next match would turn into one of the biggest World Cup upsets when the USA beat the then almighty English. The stadium would go on the host one more group match.
The bowl-shaped Estádio Independência could at that time hold about 30,000 people.
The stadium would become the home of four Belo Horizonte clubs, Atlético Mineiro, Cruzeiro, América, and Sete de Setembro, but the first two would move out in 1966 to the newly built Mineirão.
Estádio Independência recorded its highest attendances in 1963 when 32,721 people witnessed a match between a Mineiro and Guanabara state selection.
The stadium was initially owned by Sete de Setembro, but in 1989 acquired by América.
Few changes had been made to the stadium since its inauguration, and by the 21st century it had significantly aged. Due to the Brazilian boom, funds became available, and América decided to tear down the stadium and build a new one in its place.
Estádio Independência got demolished in early 2010. Soon after, works started on the new Estádio Independência, which opened in April 2012.