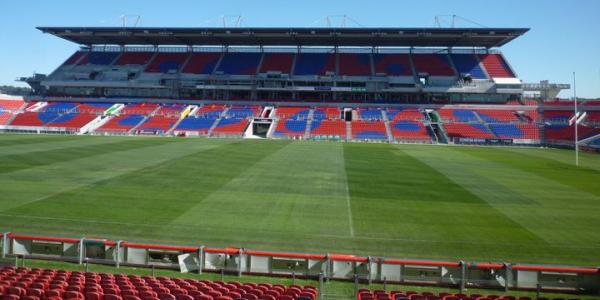 Key facts
Club: Newcastle Jets | Opening: 1970 | Capacity: 33,000 seats
History and description
Hunter Stadium was built to serve as the city's principal playing venue for rectangular-pitch sports. The stadium has been the home of rugby club Newcastle Knights since 1988, and of the Newcastle Jets since 2000.
Hunter Stadium underwent a first redevelopment in 2003 when a new two-tiered east stand got built. Building works took several years, and once finished they continued on the west stand, which got rebuilt in similar shape.
The stadium has gone by several sponsor names over the years: it was first called Marathon Stadium, then EnergyAustralia Stadium, and finally Ausgrid Stadium before the stadium referred back to its old name in January 2012.
Getting there
Hunter Stadium is located in the east of the city of Newcastle at about 5 kilometres from the central business district and a little more from Newcastle Station.
Newcastle can be reached from Sydney Central Station with Citylink trains on the Central Coast Line. The journey takes between 2.5 and 3 hours. Trains typically depart about once every hour.
There are also less frequent, but slightly quicker (and more expensive) Countrylink trains that connect Sydney Central Station with Broadmeadow station, which is a 15 to 20-minute walk away from Hunter Stadium.
The Citylink trains also stop at Broadmeadow station before proceeding to Newcastle Station in the central business district.
From the central business district, the stadium can be reached with several buses, that either stop at Young Road, Lambton Road, or Turton Road.
The best option is bus 231. Take it from Newcastle Station and get off at Turton Road. The journey takes about 15 minutes.
Bus 222, 230, 317, 322, and 363 are alternatives, but stop on Lambton Road, which means a longer walk.
Bus 111 stops closer to the stadium, but goes in quite a roundabout way. The journey takes almost 45 minutes.
If arriving by car from the Pacific Highway that runs west of the city, take the exit for the Newcastle Link Road toward Newcastle. Follow the Newcastle Link Road (later Newcastle Road, Griffiths Road, or 133) for over 14 kilometres toward the city, passing a few roundabouts. Turn right at the crossing with Turton Road (121) following for Sports Centre. The stadium lies shortly ahead on the left.
Parking on matchdays is only available with a pre-booked ticket.
Address: 294 Turton Road, Broadmeadow, NSW 2292
Tickets
Tickets for Newcastle Jets games can be bought online via PROticket, by phone +61 1300 12 10 12, or at any of the PROticket sales outlets. The Hunter Sports Superstore at Hunter Stadium is one such outlet.
Tickets cost either AUD 22.00 for general admission behind the goal and most of the reserved seating at the east stand, or AUD 35.00 for reserved seating at the west stand.
Photos
Relevant Internet links

Footballaustralia.com/newcastlejets/ – Official website of the Newcastle Jets.
Visitnewcastle.com.au – Newcastle tourist information.
Newcastlebuses.info – Newcastle public transport information.