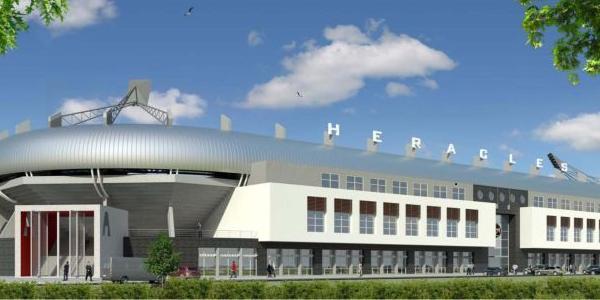 Key facts
Club: Heracles Almelo | Capacity: 15,000 seats | Scheduled opening: 2013 | Status: in planning
Description
Heracles Almelo is currently in an advanced planning stage of building a new 15,000-seater stadium.
Heracles only moved into their current Polman Stadion thirteen years ago, but since the club promoted to the Eredivisie in 2005 the stadium has consistently sold out. An initial enlargement already raised capacity from 6,900 to 8,500 seats, but further expansions turned out be costly, and the club therefore focused on building a new stadium all-together.
The stadium will be built a few hundred metres away from the Polman Stadion, in the south of Almelo, at a site that is currently in use by a number of amateur football clubs.
Heracles hopes to start construction in the summer of 2012, which should result in the stadium being ready by the start of the 2013/14 season.
The Almelo city council has already approved the project, however recent conflicts with the amateur clubs about their move could possibly delay the start of construction.
Heracles has also encountered difficulties in securing funding and needs to find an additional few million Euros before construction can start. Costs of the stadium are budgeted at €30 million.
The stadium will initially have a capacity of 15,000 seats, but will be easily expandable to 20,000 seats.
In April 2012 the club announced that a naming rights deal had been reached with shirt sponsor Ten Cate, furthermore suggesting that the name of the stadium will be Ten Cate Arena.