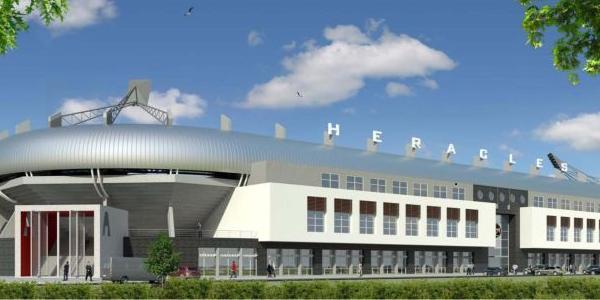 Key facts
Club: Heracles Almelo | Capacity: 15,000 seats | Scheduled opening: 2013 | Status: in planning
Description
The Ten Cate Arena was a new stadium project of Heracles Almelo around the year 2011 that in the end failed to get built.
Heracles had only moved into the Polman Stadion a decade before the first plans for the Ten Cate Arena were presented, but since the club promoted to the Eredivisie in 2005 their new stadium had consistently sold out. An initial enlargement already raised capacity from 6,900 to 8,500 seats, but further expansions turned out be costly, and the club therefore focused on building a new stadium all-together.
The stadium was going to be built a few hundred metres away from the Polman Stadion, in the south of Almelo. Heracles had hoped to start construction in the summer of 2012 and then be ready by the start of the 2013-14 season, however funding problems soon derailed the project.
The costs of the stadium were budgeted at €30 million, for which it was essential to accommodate a significant amount of retail space in the stadium, which led to objections of the province of Overrijssel, who as a result refused funding for improvements of Almelo's local city centre.
In the end, the club had to shelve the plans for the Ten Cate Arena, and instead opted for expanding their present Polman Stadion to 13,500 seats, slightly less than the projected 15,000 seats of the Ten Cate Arena (which would have been easily expandable to 20,000 seats).