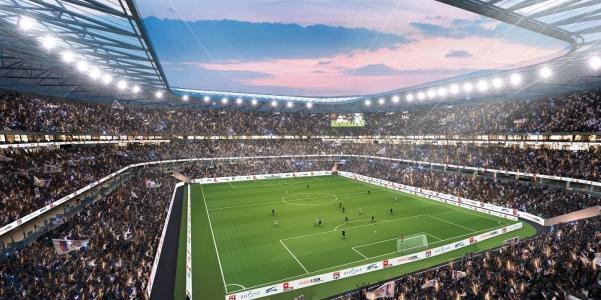 Key facts
Club: Olympique Lyonnais | Capacity: 58,000 seats | Scheduled opening: 2015 | Status: under construction
Description
Olympique Lyonnais has recently started the construction of a new stadium, generally referred to as Grand Stade OL or Stade des Lumières, that will replace Stade Gerland.
Lyon had been looking at the possibility to build a new stadium since 2007, but saw earlier proposals delayed due to local opposition and a lack of funding because of the financial crisis. The project received the final push when France got awarded the Euro 2016 tournament and Lyon got selected as a host city.
The stadium is planned to have a capacity of 58,000 seats, of which about 6,000 business seats. It will consist of three tiers with seats no further than 15 metres from the pitch. Its design is by architecture firm Populous.
The total cost of the project is estimated to be €450 million, of which almost €170 for improvements in infrastructure. The latter part will be publicly paid for, while the stadium will be privately financed by the club and other investors.
Grand Stade OL will be built in the Lyon suburb Décines, in the west of the city and just over 10 kilometres from Lyon's city centre. 
Olympique Lyonnais received the final building permit in February 2012 and later that year started preparations to get the site ready for building works. Subsequent delays have postponed the expected completion date from the summer of 2014 to that of 2015.
Grand Stade OL will be one of the playing venues of Euro 2016, and is a contender to host the opening match.