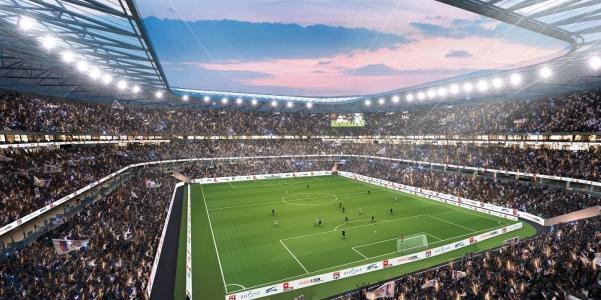 Key facts
Club: Olympique Lyonnais | Capacity: 59,286 seats | Scheduled opening: 2016 | Status: under construction
Description
Grand Stade OL, also referred to as Stade des Lumières and Grand Stade de Lyon, is the currently under-construction new home of Olympique Lyonnais and as such will replace Stade Gerland.
Lyon had been looking at the possibility of building a new stadium since 2007, but saw earlier proposals delayed due to local opposition and a lack of funding because of the financial crisis. The project received the final push when France got awarded the Euro 2016 tournament and Lyon got selected as a host city.
Grand Stade OL is planned to have a capacity of 59,286 seats, of which about 6,000 business seats and 105 lodges. It will consist of three tiers with seats no further than 15 metres from the pitch. Its design is by architecture firm Populous.
The total cost of the project is estimated to be €450 million, of which almost €170 for improvements in infrastructure. The latter part will be publicly paid for, while the stadium will be privately financed by the club and other investors.
Lyon received the final building permit in February 2012 and later that year started preparations to get the site ready for building works. Subsequent delays have postponed the expected completion date from the summer of 2014 to January 2016.
Grand Stade OL will be one of the playing venues of Euro 2016, during which it will host four group matches, a round of 16 match, and one of the two semi-finals.
How to get to Grand Stade OL
Grand Stade OL is getting built in the Lyon suburb Décines, in the east of the city and just over 10 kilometres from Lyon's city centre.
The stadium, located right next to the N346 / E15 motorway, is easily reached by car. Get on the N346 from the A42 in the north or the A43 in the south and take exit 6.
If using public transport, the stadium can be reached by tram. The stadium is only a 10-minute walk from station Decines Grand Large of tram line 3, which runs just north of the stadium, but a new branch will bring you right in front of the stadium. Line 3 departs from Gare Part-Dieu on the eastern edge of Lyon's city centre.
Eat, drink, and sleep near Grand Stade OL
Grand Stade OL is located on the edge of the city in a quiet suburb, surrounded by residential housing and farmlands. There is little around in terms of eating and drinking apart from the odd fast-food restaurant, which therefore best done in Lyon's pleasant city centre.
Most will also decide to find a hotel in the centre of Lyon, though if you want to stay close to the stadium, then there are a few roadside hotels around. These will likely most appeal to those arriving by car.
Hotel Grand Est and B&B Hotel Lyon Meyzieu are decent mid-range options located right on the other side of the N346. Click here for an overview of hotels near Grand Stade de Lyon.
Of course, most will decide to stay in Lyon's city centre, which boasts plenty of options in all price ranges.
Photos of Grand Stade OL