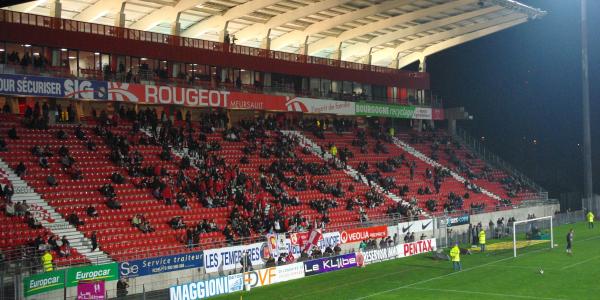 Key facts
Club: Dijon FCO | Opening: 1934 | Capacity: 16,098
History and description
Stade Gaston-Gérard opened on the 19th of May 1934 as Parc des Sports and could at that time hold about 10,000 spectators.
The stadium got renamed in 1969 in honour of former deputy mayor of Dijon and French minister of tourism Gaston Gérard. Over the years the stadium underwent several minor changes and refurbishments.
In 2007, Dijon presented plans to completely redevelop Stade Gaston-Gérard into a modern 22,000 all-seater arena, with works to be performed in several stages.
Building works started with the stands behind the goals. A new North Stand was completed in May 2009 and a new South Stand in October 2010. Plans are to continue with both stands at the long sides, but works have currently not started yet.
Getting there
Stade Gaston-Gérard is located in the west of the city of Dijon, about 2 kilometres from the city centre. One can walk to the stadium in less than 30 minutes.
Dijon's main rail station, Dijon Ville, lies further away at about 3.5 kilometres. One can get from the station to the stadium with bus 3. Take the bus in the direction of Épirey Cap-Nord and get off at stop Parc des Sports. Bus 3 also crosses right through the city centre. Buses run regularly. The ride takes about 17 minutes.
By car, from the A4, take exit 4 Dijon-Centre and follow the D700 toward the city. At approaching the city there will be signs guiding you to Parc des Sports.
From the A6, take the A38 into the city. At approaching the centre turn left onto the Boulevard de l'Ouest following for Toutes Directions. Follow the boulevard through various bends left and right for just over 6 kilometres until you reach a roundabout. Take the third exit, and a few hundred metres later turn right onto the Rue Ernest Bouteillers. The stadium lies in front of you.
Address: Boulevard Trimolet, 21000 Dijon
Tickets
Tickets for Dijon games can be bought online, or at the ticket office at the Stade des Poussots (at 9 Rue Ernest Champeaux in the south-east of the city).
Ticket prices depend on the opponent. Tickets for the most expensive "gala" matches range in price from €6.00 for an uncovered seat to €16.00 for a seat at the main stand.
For more information call +33 (0) 3 80 65 09 65 or email billetterie@dfco.fr.
Photos
Relevant Internet links

Dfco.fr – Official website of Dijon FCO.
Visitdijon.com – Website of the Dijon tourist office.
Divia.fr – Dijon public transport information.