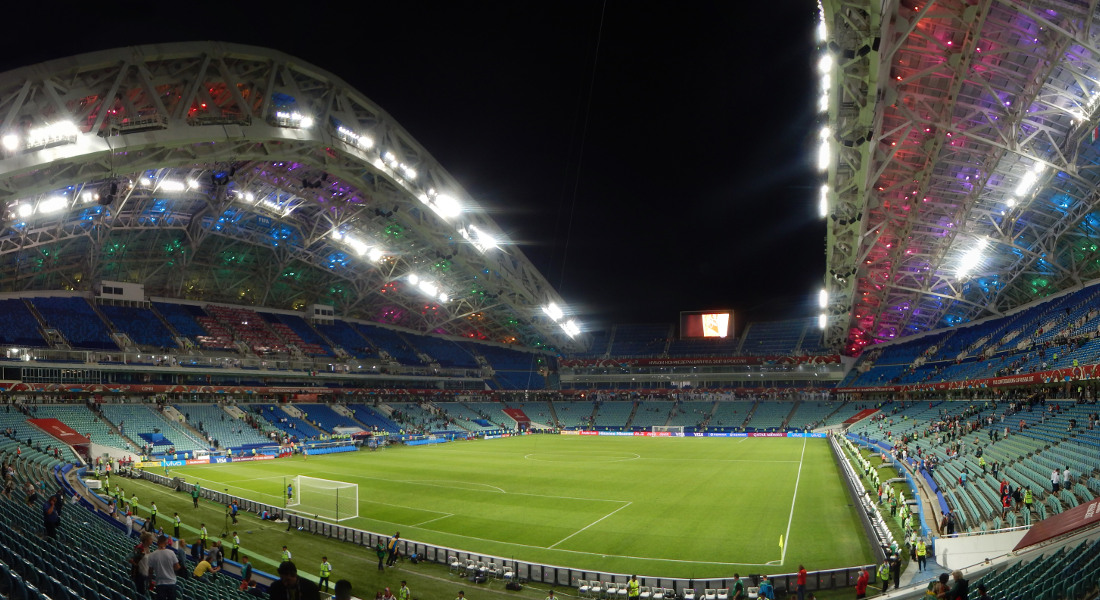 Key facts
Club: none | Opening: 2013 | Capacity: 47,659 seats
History and description
Fisht Olympic Stadium was built to serve as the centrepiece venue of the 2014 Sochi Winter Olympics. During the Olympics, it hosted both the opening and closing ceremony.
The stadium lacked a purpose following the Games, but was selected as one of the playing venues of the 2018 World Cup. For this, the closed roof had to be opened up, and additional seating was placed to boost capacity with a little over 6,000 seats. Works were completed in late 2016.
During the 2018 World Cup, Fisht Olympic Stadium will host four first round group games, one round of 16 match, and one quarter-final.
Fisht Olympic Stadium is also one of the playing venues of the 2017 Confederations Cup, including one of the two semi-finals.
How to get to Fisht Olympic Stadium
Fisht Olympic Stadium is located in the city of Adler, southeast in the greater Sochi area near the Georgian coast. It is located on the former Olympic Complex right on the shore of the Black Sea.
The city of Adler also contains Sochi's international airport and has a major train station. The stadium lies roughly 12 kilometres from the airport and 11 kilometres from the rail station. Bus 57k connects the airport with the stadium, and bus 57 runs from Adler train station to the stadium.
The daily trains that connect the Sochi area with the rest of the country (e.g. Krasnodar) also stop at Imeretinsky Kurort (Olympic Park) station, which lies at walking distance from Fisht Olympic Stadium.
Address: Olimpiyskiy prospekt, Adler, 354340
Eat, drink, and sleep near Fisht Olympic Stadium
Fisht Olympic Stadium is located on the Olympic Sports Complex that is part of a massive new modern development including residential areas, parks, beaches, shopping, and entertainment, including an amusement park next door to the stadium.
There are plenty of modern bars and restaurants spread around in the area, in particular in the strip along the coast.
There are many hotels in the area around the stadium, including multiple beach resorts, and many more guest houses and apartment rentals. Some of the better-rated hotels include the large Bogatyr Hotel, Imeretinskiy Hotel, Tulip Inn Omega Sochi, Abris Hotel, and Radisson Blu Paradise Resort.
Click here for an overview of hotels near Fisht Olympic Stadium. Alternatively, you can opt to stay in central Sochi, explore the options here.
Photos of Fisht Olympic Stadium
Relevant Internet links
Sochicityguide.com – Official Sochi tourism guide.
Tutu.travel – Russia train schedules.