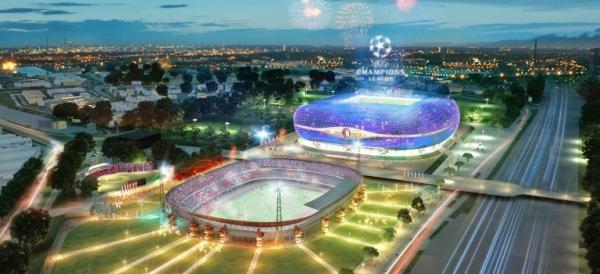 Feyenoord has chosen to build an entirely new stadium next to its current stadium De Kuip. In recent months, the club had been investigating two different options proposed by consortia led by construction firms, but today announced that they have chosen the proposal of the VolkerWessels consortium.
This proposal involves building a new stadium right next to De Kuip at Varkenoord, the site of Feyenoord's youth academy. The stadium will have a capacity of 63,000 seats, which is about 13,000 more than the current stadium.
In addition to the extra seats, a total of 100 VIP boxes will be included in the new stadium, and it is expected to have a retractable roof in order to be used for multiple purposes. The club at the same time stated though, that the stadium will be most of all a football stadium, and wants the stands to be constructed as close to the pitch as possible.
Both the Emirates Stadium and Allianz Arena were mentioned as having inspired the plans, but no images have been provided yet. The above image was earlier provided, and is undoubtedly subject to change.
There is still a long road ahead for Feyenoord, which starts with getting more clarity on the funding.The current projections estimate that the total bill will end up at around €300 million.
Feyenoord themselves have not a single cent to contribute, and private investors therefore need to be found to pay for the stadium. The city of Rotterdam will be asked to provide a guarantee for a number of loans. A naming rights deal may also be part of the plans.
Feyenoord will use the upcoming months to prepare concrete financial plans, and then hopes to present these to the Rotterdam city council before the end of the year. Construction will not start before 2016, which means that the new stadium will be ready in 2018 the earliest.
The announcement follows a week of publicity for alternative plans presented by a group of entrepeneur/fans, who want the current Kuip to be renovated. We published an article yesterday that discusses these plans and compares them with building a new stadium.
Most Feyenoord fans have reacted negatively to the announcement, preferring a longer stay at their cherished home. Council members also reacted wary, and stressed that their financial commitments can only be modest.
Feyenoord has earlier presented other plans for the construction of a new stadium, most notably that for an eye-catching 80,000-seater on the banks of the river Meuse, but all failed to materialise.