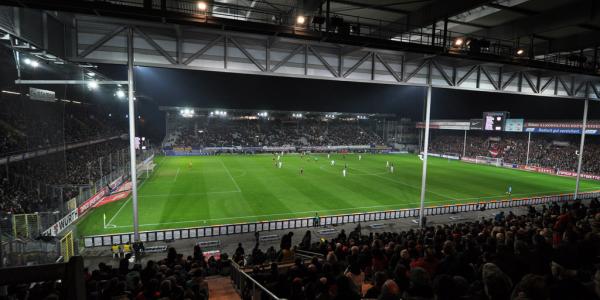 Key facts
Club: SC Freiburg | Opening: 1954 | Capacity: 24,000 (10,000 standing)
History and description
The MAGE SOLAR Stadion, originally called Dreisamstadion, opened on the 4th of September 1954.
The Dreisamstadion was initially a modest affair, and it took until 1970 for the first major stand to be erected.
The stadium got further expanded in 1980, which included the construction of a main stand and additional terraces. This resulted in a capacity of about 15,000.
The Dreisamstadion got its current shape in the 1990s when all four stands got either rebuilt or renovated.
The stadium changed names to Badenova-Stadion in 2004 as a result of a naming rights deal, and again in 2012 after a new deal was agreed with sponsor Mage Solar.
The MAGE SOLAR Stadion has solar panels installed on its roofs which cover (part of) the stadium's energy needs.
SC Freiburg is currently contemplating a move to a new stadium and has started a study for possible locations in the Freiburg region.
Getting there
The MAGE SOLAR Stadion lies on the eastern edge of Freiburg, tucked against the hills of the Black Forest. The distance from Freiburg's old town is about 3 kilometres and from the main railway station (Hauptbahnhof) almost 4.5 kilometres.
By car from the A5 motorway, take exit Freiburg-Mitte. Follow the B31 east and the signs for Ebnet, Littenweiler and Stadien. Don't take the B31 tunnel but keep left and turn onto the Schwarzwaldstraße, after which the stadium will show up on your left.
From the Hauptbahnhof or the old town one can take tram 1 to get to the stadium. Take the tram in the direction of Stadion or Littenweiler, and get off at stop Römerhof.
Address: Schwarzwaldstraße 193, 79117 Freiburg im Breisgau
Tickets
Tickets for Freiburg games can be bought online, at the SC-Ticketcenter at the MAGE SOLAR Stadion, or at one of the other pre-sale points.
The BZ-Kartenservice at the Bertoldstr. 7 and the Tourist Information at the Rathausplatz 2-4 are both centrally located pre-sale points in the old town.
Tickets for the standing areas go for either €11.50 or €13.05, whereas a seat costs between €31.00 and €48.00.
For more information email karten@scfreiburg.com or call +49 (0) 7 61 38 551 113.
Attendances

Photos
Relevant Internet links

Scfreiburg.com – Official website of SC Freiburg.
Freiburg.de – Freiburg tourist information.
VAG-Freiburg.de – Freiburg public transport information.